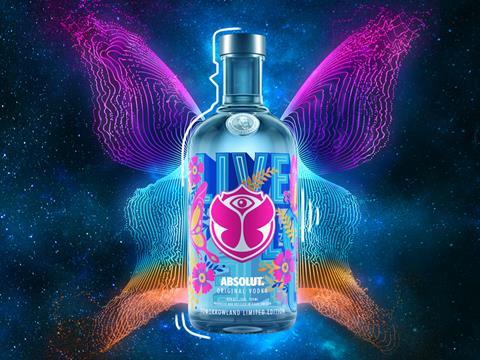 Absolut Vodka and Tomorrowland have come together to create a limited-edition bottle, which aims to bring the spirit of the dancefloor into consumers' homes during this year's 'Around the World' digital festival.
According to the organisations, the bottle has been designed to bring the shared values of inclusivity and diversity to life. The festival-themed bottle is part of the co-created campaign, United We Dance, which aims to celebrate the spirit of the dancefloor.
The United We Dance campaign is rooted in community and unifying over the common passion of music, where spaces are inclusive and diverse, and all are welcome.
The limited-edition bottle has been designed with vibrancy at its heart. The Tomorrowland logo takes centre stage – the butterfly aims to symbolize freedom and the beauty of nature; the crown represents equality, and the eye seeks to remind consumers to see the beauty in life.
The bottle will be available in Belgium, Netherlands, Germany, Switzerland, Austria, Malta, Serbia.
Tad Greenough, Global CCO at Absolut Vodka, comments: "Absolut Vodka and Tomorrowland share the belief that what unites us is stronger than what divides us. We both know that together we can create a better tomorrow. Human connection is more important now than ever, and this partnership looks towards a time in the future when we can be together on the dancefloor in real life".
Tomorrowland's digital festival, 'Around the World', takes place on July 16th and 17th on the digital island Pāpiliōnem. This is the fifth year that Absolut Vodka will be its official vodka partner.