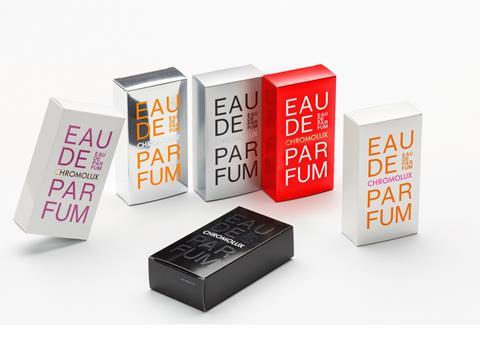 With premium gloss, silky smoothness or, of course, matt: Zanders knows only too well how to stylishly place luxurious perfumes and cosmetics in the limelight. At the PCD Paris ("Packaging of Perfume, Cosmetics and Design"), the German manufacturer of superior quality speciality papers and cartons, presented its Chromolux and Zanpack packaging board grades, which are particularly suitable for exclusive beauty packaging.
The buying decision is often triggered simply by a glance. This is where exceptional packaging can make all the difference – whether immaculately simple or elaborately refined. The peerless, cast-coated Chromolux premium board range, with its extremely smooth and high-gloss surface, facilitates interlaced embossing; lacquering or innovative film finishing and ensures an excellent appearance.
The double-coated Zanpack silk grade is characterized by its silky feel and attractive appearance. For packaging which must also impress during opening, the double-sided quality Zanpack silk² is recommended. In compelling contrast to the silky smoothness of Zanpack silk and Zanpack silk², the uncoated Zanpack touch variant stands out with its naturally napped feel and matt appearance. Cosmetic brands with an ecological orientation or a focus on plant and active ingredients, can now elegantly convey their entire product philosophy - without a word. Indeed, the renowned advertising industry magazine Lürzer's Archive placed Zanders' Zanpack touch perfume packaging sample among its top 200 worldwide packaging designs for 2017/2018.
More info: