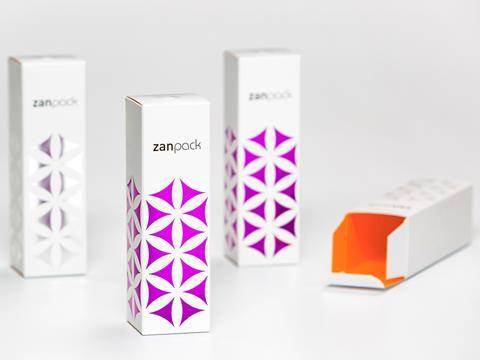 From classic high quality to luxurious, cosmetic manufacturers can find the board grade to individually suit their brand message at Zanders.
At Cosmetic Business 2017, the producer of high-quality specialty paper and boards is focusing on the Zanpack brand qualities with silky smooth or naturally rough surfaces. Small runs of promotion packaging or seasonal designs can be implemented efficiently and in high quality with the specially developed Zanpack silk digital print board. The premium brand Chromolux is the star of the German manufacturer's portfolio of specialty papers and skilfully sets the scene for high-end cosmetic products. Jakob Jonsson, Sales Director at Zanders, and his team will provide you with information about the portfolio and the different ways it can be put to use at Stand A12/B09 in Hall 4.
High-purity white, excellent printing images, and perfect finishing and laminating properties are absolutely essential for the packaging of cosmetic and beauty care products. "Zanpack silk, Zanpack silk2 and Zanpack touch have exactly these properties. Their different surfaces ranging from silky smooth to naturally rough also provide a haptic experience that will be remembered and convey the brand message in a customised manner", explains Jakob Jonsson. "With its noticeably smooth front and back, Zanpack silk2 doesn't just spark enthusiasm from the outside, but also while opening the product packaging.
"Those who want to present their promotions and seasonal products efficiently with digital printing without forgoing the typically silky smooth surface and the print image quality of Zanpack silk, will discover that Zanpack silk digital is a board variety specially developed for this.
Bringing high-end products luxuriously to life? Zanders presents its fine, cast-coated premium board qualities for just this purpose: "The uniquely smooth, high-gloss surface of Chromolux draws all the attention and signalises that this product is first-rate!" says Jonsson.
"Chromolux shows delicate embossings, lacquers or innovative foil finishes from their best side, and offset, flexographic, gravure and silk-screen printing can all be used with equally excellent results."
21-22 June 2017, Hall 4 Stand A12/B09, Cosmetic Business, Munich
For more information, visit www.zanders.com