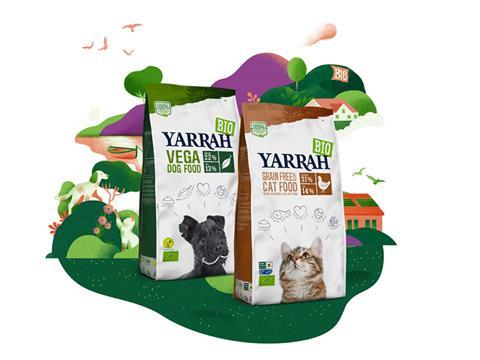 Yarrah, a Dutch producer of organic dog and cat food, is set to transition the packaging for its entire kibble range to recyclable mono PE bags. The new bags for both Yarrah brands, Yarrah and DANO, will be in stores in April.
"Millions of polluting bags are incinerated all over the world every year," says Bas van Tongeren, Yarrah Organic Petfood's CEO. "We've already minimised our environmental footprint with our fully organic products, but the packaging plays its part as well. The adoption of material that can be repurposed in new plastic products furthers the sustainability of our range."
Explaining Yarrah's choice to pack its kibble in mono PE, Van Tongeren explains: "We explored all options in our quest for improved packaging. Monoplastic is the very best choice for us. Sustainability tends to be associated with paper, but paper comes with problems of its own. One example is that it would still need a plastic coating on the inside, dramatically reducing its reusability.
"We also decided against biodegradable plastic because it doesn't always decompose completely and tends to contaminate the compost heap with microplastics. It's great to know that waste processors are able to melt down our bags and give them a second life."
In light of this announcement, the only Yarrah packs that aren't yet fully recyclable are its meal pouches. Van Tongeren adds: "We are fully committed to developing circular meal pouches with a long shelf life. We don't want to launch sustainable pouches that expire more quickly. That would only generate more waste because consumers will be throwing out more of the product.
In close collaboration with scientists and based on the latest health insights, Yarrah has also enhanced the recipes of twelve of its products in addition to improving the packaging. The protein and fat content has been optimised and production has begun.