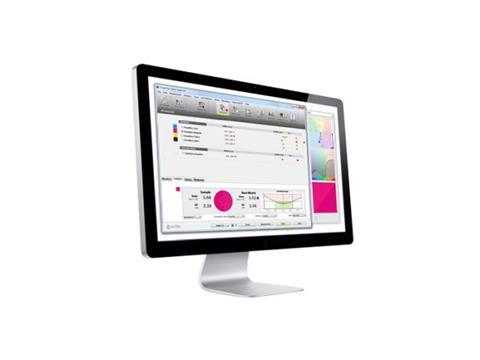 At Labelexpo, X-Rite showcases new versions of eXact and ColorCert Suite with improved ease of use and one-click guides to help operators understand if they are compliant with G7 or PSO guidelines.
X-Rite Incorporated, a global leader in color science and technology, and its subsidiary Pantone LLC, has unveiled new versions of ColorCert Suite 3.0 process control software and the award-winning eXact handheld spectrophotometer. Both releases support all G7 and PSO metrics, and guide operators in determining whether printed output is compliant with those guidelines. The new products, combined with X-Rite's InkFormulation Software, offer commercial printers and packaging converters an integrated, end-to-end solution for managing color consistency in a G7 or PSO process workflow. X-Rite and Pantone will showcase the new products at the Esko stand 3C50 at Labelexpo, September 25-28 in Brussels.
A growing number of brand owners are investigating extended color gamut printing, or CMYK plus Orange, Violet and Green (CMYK +OGV), as a means to achieve more than 90 percent of brand colors using process printing. In addition, brand owners, especially those in North America and Asia, are requiring G7 and/or PSO compliance from labels and packaging converters as a way to ensure consistent color across printing processes. G7 provides a structure that guides process print to achieve a common appearance for output across presses, printing technologies and production sites. Adopting the framework can help printers and converters meet brand owner requirements while increasing press uptime and Overall Equipment Effectiveness (OEE).
"At Labelexpo, we will be showing how eXact along with ColorCert help validate that a printer has calibrated its processes to G7 and PSO guidelines, and can monitor print quality moving forward to ensure it stays in compliance," said Ray Cheydleur, Printing and Imaging Product Portfolio Manager, X-Rite. "With this solution, converters can provide their customers with real-time ColorCert Scorecard data that confirms compliance with these brand owners' specifications, speeding approval processes and often eliminating the need for expensive and time consuming on-site press checks."
Operators can now quickly measure output with the X-Rite eXact and export the data to ColorCert Pressroom for immediate G7 or PSO compliance determination. The new ColorCert software provides guidance as to how to quickly address any issues, including adjustments to density or ink strength using the BestMatch feature. By integrating X-Rite's InkFormulation Software to this color workflow, operations can also ensure accurate ink formulations, validating the quality of inks upon receipt, as well as quickly creating ink recipes, including the use of leftover inks to create spot colors when required.
New Interface Improvements in eXact The new release of eXact features many user interface enhancements. Operators can now choose one-step setup for G7 and PSO jobs for an 86% performance improvement over previous tools. A new quick menu tab on the front screen offers easy access to the most commonly used features in eXact. This includes one-click access to the Density/TVI tool for CMYK print processes and the L*a*b* tool for spot colors. X-Rite eXact still offers an enhanced mode for access to advanced features for power users, making it a flexible instrument for operators of all skill levels.
"While print consultants and other technical stakeholders require access to in-depth G7 and PSO metrics, a majority of press operators only need tools to quickly help them determine whether print output is compliant, and guidance on how to correct any color problems," continued Cheydleur. "This latest release of eXact makes it easy to measure against G7 and PSO targets. Operators no longer need to manually select each job using multiple clicks. Now the instrument guides the user through the process automatically in one step."
More info: