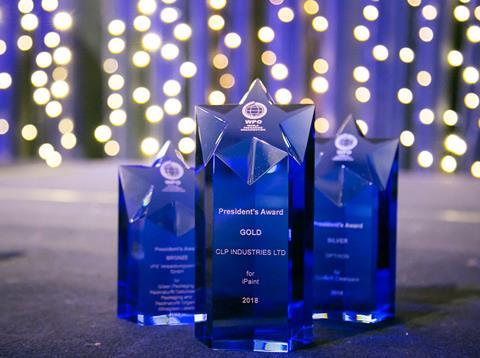 Over 500 people attended the WorldStar Awards Presentations & Gala Dinner in May 2018, the most important global packaging competition in the world, organised by WPO (World Packaging Organization). During the ceremony in Gold Coast, Australia, 65 winners from a total of 200 awarded packages were present in the ceremony, representing 22 countries. Japan collected the most awards during the evening (12), closely followed by China (11). The ceremony was accomplished in the same week (30 April – 3 May) as the WPO 100th Board Meeting, the first one of 2018.
Also taking place during the week were the AIP celebrations, recognising their PIDA Award Winners during the same evening as the WorldStar Awards and a 2 days AIP National Conference – Packaging & Processing Week, organised and hosted by the Australian Institute of Packaging (AIP), a very active WPO member.
Besides the normal WorldStar categories – Beverages, Electronics, Food, Health and Personal Care, Household, Labelling & Decoration, Luxury, Medical and Pharmaceutical, Other, Packaging Materials & Components, Point of Sale and Transit – the winners of the Special Award categories were announced, those being the President´s Award, Sustainability, Marketing and Packaging that Saves Food. CLP Industries Ltd., Israel picked up the Gold President's Award for their iPaint – an innovative product which revolutionises the way consumers paint their homes.
Three winners out of the four awarded were present on the evening to receive the Lifetime Achievement in Packaging Award. This award was established last year with the aim of acknowledging and rewarding excellence in all aspects of packaging science, technology, design and application across every country around the world". The judges, from all over the world and a minimum of one from each continent, elected: Miklos Galli (Hungary), Helmut Meininger (Austria), Harry Lovell (Australia) and Lars Wallentin (Switzerland), "The Award is a great honour and appreciation for me and my colleagues, who were working with me on sustainable packaging solutions", reported Miklos Galli.
Pierre Pienaar, newly appointed WPO President adds: "These prestigious awards will celebrate and preserve in perpetuity the collective achievements of these innovators and myself and colleagues at AIP are ecstatic that our renowned fellow colleague, Harry Lovell, has received the Lifetime Achievement Award."
More info: