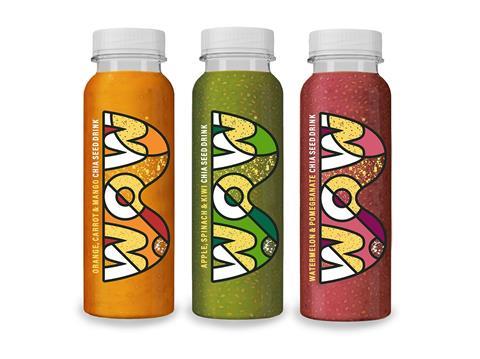 Disruptive health drinks brand, WOW, has unveiled a complete makeover, including a radical new pack design, across its range of wellness beverages.
The lineup of WOW Chia Seed Drink, WOW Activated Charcoal Drink and new product WOW Probacteria Water, features WOW's new logo which symbolises a pair of glasses. The logo is an integral part of the brand's new identity, to encourage consumers to interact by holding a bottle in front of their eyes as if looking into the technicolour world of WOW and therefore "seeing life with your WOW glasses on." The brand wanted a universally recognisable icon to clearly represent how good the products make the consumer feel and consequently the positive outlook they invoke. The overhaul is part of an ambition to attract a more mainstream market by making functional health drinks more accessible and fun.
WOW tasked branding agency, Jones Knowles Ritchie, for its new vision.
Founder of WOW, Oliver Dickinson, said: "We knew that if we were going to change the types of drinks consumers purchase and convert them to healthier, functional alternatives we would need to have a stronger shelf presence and emotional connection with consumers than any other brand.
"We would often see time and time again consumers going for the brighter, bolder packaging on shelves. It frustrated and worried us that these would be the mass market, heat-pasteurised competitors often with scarily high sugar levels and even artificial ingredients.
"Other health focused drinks on the market have defaulted to a clean, static and almost medicinal approach to packaging and brand identity. With the launch of our new brand identity we're making a giant step toward making health drinks mainstream.
"Each of our products contains one hero ingredient that provides a genuine health benefit to the consumer and we communicate this functionality clearly but in an exciting manner."
WOW turned over £3 million in 2017 and is forecast to turnover £10 million in 2018. Its products are stocked widely in major retailers across the UK and France, with successful launches in Austria, Germany, Denmark and Ireland. Stockists include Sainsbury's, Boots, Waitrose, Co-op, Ocado, Carrefour, Auchan, Franprix and many more.
More info: