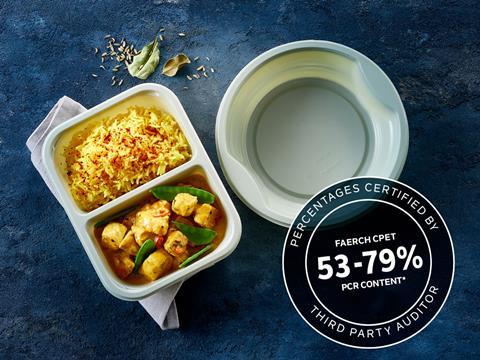 With the goal of ensuring maximum transparency, Faerch has started providing customers with third-party audited statements on the recycled content in its PET food packaging products.
The company hopes that its new standard, which is audited by PricewaterhouseCoopers (PwC), will ensure "maximum transparency" for customers, consumers, legislators, and other stakeholders.
"The amount of recycled post-consumer content in food packaging is a key indicator for sustainability," says Spencer Johnston, CEO of Faerch UK Ltd. "Consumers and legislators expect full transparency. With our audited certification, we eliminate any uncertainty and doubt."
"We apply the strictest calculation method and use post-consumer content based on an ISO definition as the basis for certification," Johnston continues. "We very much encourage decision-makers in the industry to focus on maximising post-consumer content in contrast to post-industrial material, which is frequently referred to, but in fact comprises of industrial by-products or virgin regrind that has never been in the hands of a consumer."
Audited certificates are available for Faerch's entire UK CPET range, which contain levels of post-consumer recycled content between 53% and 79%. Audited certificates for Faerch's remaining PET products, which include levels of up to 100%, will be available in the coming months, covering all countries across the Faerch Group.
In parallel, Faerch's portfolio of materials and product offerings continues to grow at pace. Just recently, it revealed Eco HotPro PET pots for the dairy industry, which allow hot temperature sterilisation.
More products are being added, and Faerch's unique tray-to-tray recycling capacity is also expanding, with new sites being planned.
This particular journey is also set to continue, with Faerch expanding the certification to include a specified percentage for pots, tubs, and tray post-consumer recycled content.