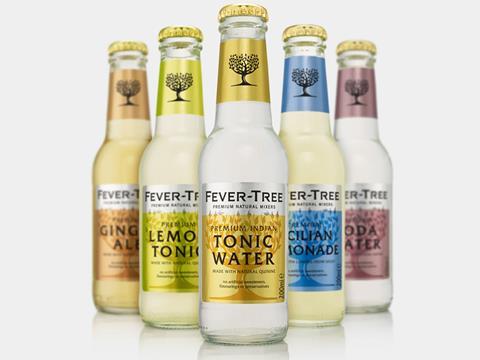 Fin Slater caught up with Shaun Bowen, creative partner at B&B studio, to discuss the difference between original and redesign projects, the future of packaging design, and the effect of coronavirus on the creative industry.
---
B&B has a wealth of experience in the field of packaging design. Can you talk us through some of your most recognizable projects?
B&B studio was founded in 2009 with the mission to work with clients who understand the power of design and its role in creating brands for a brighter, fairer, and braver future.
Since then, we have been lucky to collaborate with some fantastic founder-led and entrepreneurially minded businesses, as well as some more established brands that use the power of design to remain relevant.
We do have a lot of experience in packaging design, but our expertise is in creating strategically led branding that comes to life across multiple touchpoints, packaging being one of these.
Fever-Tree is a well-known piece of brand design. We began our partnership with Fever-Tree in 2015. Fever-Tree is an exceptional product and had a brilliant brand promise "if three-quarters of your drink is the mixer, make sure you use the best".
We worked with Fever-Tree to re-craft its packaging design, bringing impact, clarity, and consistency to the range. The packaging redesign is a great example of the craft of brand design and the creation of truly iconic brand equities. The re-design brought confidence and harmony to the range and empowered Fever-Tree to build its brand portfolio and grow globally.
Pip & Nut is a young brand but is becoming better-known and is an example of a brand we created from scratch that we still work with today. The Pip & Nut visual identity is positioned around the idea of positive energy which comes to life through all elements of the brand. The design has helped Pip & Nut to completely disrupt the nut butter category, progressing it from toast topping to a cooking ingredient and lifestyle brand. Pip & Nut is a great example of the impact that design can have on business success.
Can you give us some detail on what an average packaging design project looks like for B&B, from start to finish?
We work in a stage-by-stage approach and every project is strategically led. We believe that for a brand to make an impact and achieve long-term success, there must be – right at its heart – a story and mission that consumers can connect with. This forms the solid foundation on which the wider brand world is built.
Following this strategic phase, and armed with the optimum creative brief, we will begin concept designs. When we have agreed on the chosen design route, we then develop it across the key brand assets, packaging portfolio, and wider brand touchpoints. Brand naming, copywriting and tone of voice is also key to align the brand's verbal identity with its visual expression. We also have an expert production team, so work on all elements of the brand design process.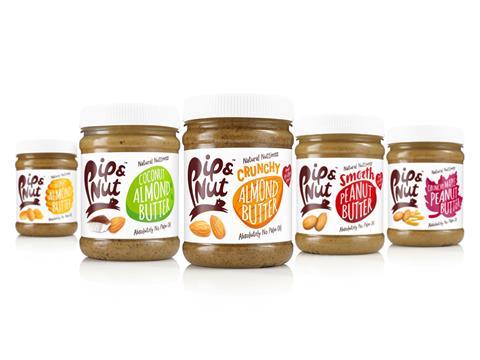 B&B has worked on original designs, as well as redesigns. Are there any differences between how you approach these separate disciplines?
We believe that brands today have a responsibility to effect positive change and respond to consumers' desire for a better, healthier, and more sustainable product. At a time of growing distrust, there is a real appetite for brands that can be trusted.
When we approach new brand creation and brand redesign, it is about getting to the heart of why these are brands that matter today. We need to make sure that the brands we create have a true purpose and that we are communicating it in the best way.
When we are working on a redesign, often we still need to review the brand positioning and potentially update it so that it remains relevant to consumers today.
Whilst packaging design remains fundamental, brands today must think beyond this core element and launch or relaunch with a brand story and personality that translates visually and verbally across all consumer touchpoints.
Are there any current trends that you can identify in terms of packaging design, and what will the packaging of the future look like?
When it comes to packaging design, reducing and re-using remains key and I think we will see an ongoing shift towards creative and desirable sustainability in packaging.
Either packaging will have to be stripped right back, or it will have to justify itself with multiple uses and desirable re-usability. This is exciting for designers as there is an opportunity to create packaging that helps to encourage new brand behaviours.
As direct-to-consumer food and drink brands increase, brands are further considering how design can encourage dual-purpose packaging and re-usability. For example, the Dalston's outer boxes are being used as DJ booths and storage boxes. Sustainability has to be front of mind, but if packaging can't be designed out, it now needs to work harder than ever.
On that topic, sustainability is a top objective for many brand owners. How does B&B factor this into the design process?
Sustainability needs to be front of mind right at the beginning of all packaging design projects. It can't be something that is considered at the end and it is often about problem-solving.
When we created alcoholic ice-cream brand LiQ, the brand team wanted each of LiQ's ice cream tubs and spoons to be 100% biodegradable. But the brand and packaging design also needed to have a standout colour palette. Our production experts developed a smart colour palette to enable all flavour variants to be printed together in one production run, rather than individually. This initiative empowered the brand to work with biodegradable packaging printers.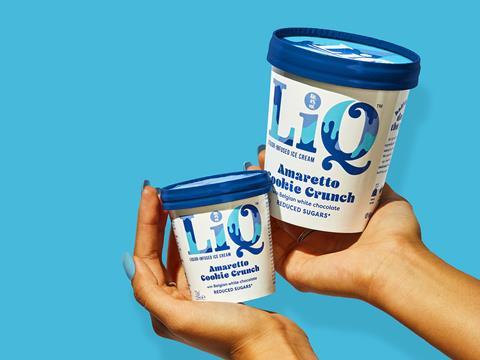 When production expertise is brought in at the beginning of the design process, sustainable solutions can be found without having to compromise the design look and feel.
Let's finish up with some questions on COVID – how has it affected B&B/the creative design industry at large and do you expect it to have any long-term effects?
COVID has affected so much on so many levels. It has certainly affected our clients and us as a business.
There have been the logistical changes with the move to virtual working and the opportunities and challenges that this brings. For the creative industry, fostering curiosity and the sharing of different forms of inspiration is so important, and we have got pretty good at making sure this continues happening virtually across the team.
As brand designers, we can also see many cultural changes with regards to what people value and how they want to consume. I think these changes will potentially have a long-term effect.