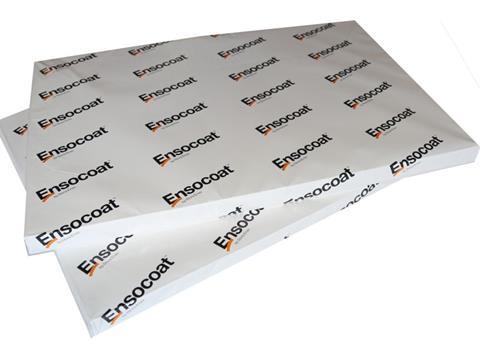 Warren, a leading independent graphical, carton board and paper stockist has announced its continued support to the Ensocoat brand with the introduction of 'New' Ensocoat, StoraEnso's flagship luxury, graphical SBS board.
Ensocoat has recently been upgraded to provide even better whiteness and shade and has been described as 'the most impressive luxury board on the market', making it a blank canvas for your brand to shine.
Warren Commercial Director, John Turner commented, "Luxury packaging typically involves embossing, foil stamping and other special effects that demand a lot from the material. With its superior smoothness, whiteness and folding properties, Ensocoat meets these demands while at the same time providing our customers with a board that, visually, surpasses anything else in the market. Stocked in depth, both ream wrapped and bulk packed, across a wide range of sizes, 'NEW' Ensocoat is available from our facility in Leicester for immediate despatch nationally. Having ream wrapped and bulk packed stock allows us to service every requirement to the exact sheet count needed for every job - whatever the size."
It is also renowned as one of the highest performing grades used for leading brand names in the cosmetics, perfumes, beauty care, champagne, wine and spirits, chocolate and confectionery and other luxury product sectors, as well as for graphical end purposes such as book covers, greeting cards, calendars and many more.
Produced from responsibly sourced, certified raw materials, Ensocoat is FSC® certified and is also available with the EU Ecolabel, confirming and underlining its environmental and ecological qualities.
As part of the marketing collateral to illustrate the new grade and distribution deal, a joint Warren/StoraEnso co-branded toolkit is now available, illustrating sample grammages and demonstrating the various print finishes that can be applied to new Ensocoat. A4 samples are also available in all grammage weights.
Additionally, a special tour bus will be visiting Warren's premises on Monday 26th June as part of a European Roadshow to promote the new product. The specially equipped luxury coach will have an innovation centre which will be demonstrating some exciting new packaging, along with a virtual mill tour, chocolate giveaways and a catering area. Warren will be sending out customer invitations for the visit in due course.
Previously historically known only for its board products, Warren is now entering its third year of offering a range of quality, branded paper products. A member of the AIMS Group, which is an organisation made up of leading independent paper and board merchants in the UK and Ireland with individual members focussing on supplying their local regions enabling them to provide a superior level of service. Warren provides a regional service covering the East and West Midlands, the North East, and the South West areas.
Warren stocks a wide range of products that are FSC® and PEFC™ Chain of Custody certified and integrates ISO 14001 Environmental Management systems into its business activities. Warren's 48 staff have over 450 years of industry experience to offer their customers, providing extensive knowledge and advice as part of their service and they recently celebrated 40 years of trading as an independent privately owned company.
More info: