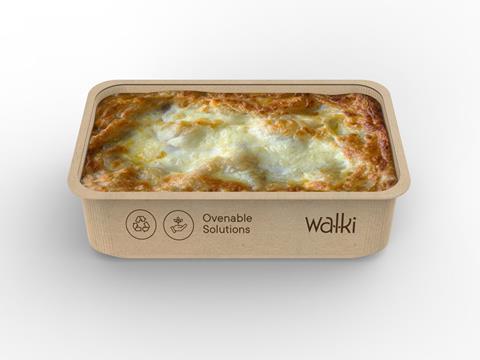 Walki develops a portfolio of trays for ready-made meals and frozen food that it says are "fully recyclable" in paper streams.
The company adds that it is responding to the growth of the ready-made meals and frozen food markets as a result of the COVID-19 pandemic, alongside consumer demand for easy-to-prepare and minimally processed meals with long shelf lives.
Walki's new portfolio is intended as a sustainable alternative for ready-made and frozen food, which it says are typically served on trays made of plastics or aluminium. In particular, the company claims that its new tray portfolio responds to the challenge of grease resistant barriers in recycling streams.
According to Matthias Zimmermann, business line manager for barrier board at Walki: "Grease resistance has usually been tackled with a plastics barrier, but that makes it difficult to recycle the tray as the plastics is difficult to separate from the fibre content.
"That is why we wanted to innovate tray materials that can be fully recycled in the paper streams."
The new portfolio includes the Walki®Pack Tray PET, which has a thin PET lining that reportedly still means the tray is classified as monomaterial, thus making it suitable for recycling in paper streams.
In addition, the company's new Walki®Pack Tray UR is apparently PET-free, as well as having "excellent" release properties. Both the Walki®Pack Tray UR and the Walki®Pack Tray PET are approved for use in conventional ovens, up to temperatures of 220oC, and for a maximum time of 60 minutes.
Zimmermann adds: "When moving away from PET-liners, you need not only to keep good ovenability in mind but also ensure that the food does not stick to the tray, resulting in food residues."
The third addition to the portfolio, Walki®Pack Food Service Trays, has a high fibre content, features an effective grease barrier, and is recyclable in paper streams, according to the company. It is intended for applications that do not require reheating.
Walki is committed to sustainable solutions that meet the growing demand for recyclable food packaging without increasing plastic use. Last year, the company developed an ovenable food tray made from renewable fibre, which it say is recyclable and 100% PET-free.