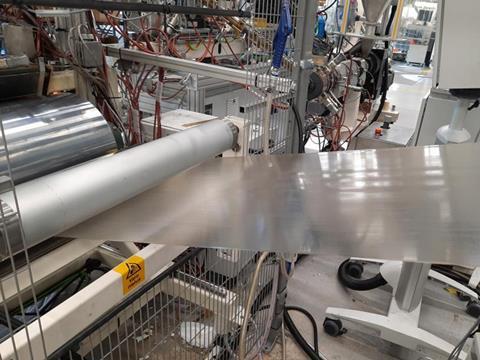 In cooperation with Arla Foods, Paulig, and Wipak, VTT is developing a thermoplastic film made of cellulose and fatty acids.
The partnership says that its Thermocell plastic material, which is made from renewable components, can be used in the same way as fossil-based plastic.
Testing is currently underway to determine how the material performs during industrial production processes, and VTT claims that the solution is suitable for applications such as injection molding, the coating of paper and paperboard, and 3D printing.
Jarmo Ropponen, research team leader at VTT, comments: "We have moved from the laboratory to bigger machinery while at the same time improving the quality of the film. Our goal is to show that Thermocell film can be produced on an industrial scale using the same equipment that is used for traditional plastic films, with features that meet the needs of the food industry. For this reason, Arla Foods, Paulig, and Wipak are also taking part in the research."
The film has reportedly already been shown to provide good protection against water vapour, and none of its components migrate into the food. In addition, VTT says that it can be heat sealed using standard manufacturing equipment.
The film's thickness has already been reduced to 100 micrometers, although the partnership recognizes that this needs to be reduced even further if the material is to compete against thin plastic films. The aim is also to orient the film – thereby improving its strength and protective qualities.
Meanwhile, VTT also says that the recyclability of Thermocell has proven to be nearly equal to that of the most common thermoplastics. It can apparently be melted down and extruded again at least five times with no significant deterioration of its features. Recycling still requires that it should be sorted separately.
Once the research group has completed fine-tuning to suit the needs of packers, the focus of development work can be shifted to practical recycling concepts. The aim is to adapt the film to collection and recycling systems that are used in the main markets in the world.