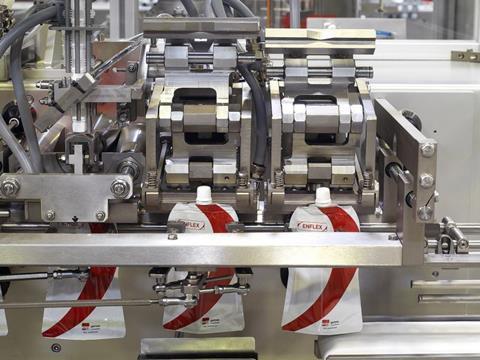 At Hispack, Barcelona, VOLPAK and its ENFLEX brand, will exhibit two pouching machines. The exhibition is an opportunity for VOLPAK to share its latest technological innovations as well as its wide range of pouching solutions.
VOLPAK will be present at Hispack exhibition, from May 8th to May 11th, introducing its latest developments and technologies for the pouching market. VOLPAK machines are suitable for different needs, from low to high volume production up to high-speed continuous production, being capable of packaging a wide range of consumer goods products in the Food, Pharma, Home Care and Personal Care industries. ENFLEX, Volpak's brand specialized in the design and manufacturing of robust entry-level horizontal pouching machines, will be showing its latest pouching machine at the show. The VOLPAK and ENFLEX team at the show can support and help customers in finding the most suitable pouching machine model for their product and factory needs.
Machines on show
VOLPAK SI-280
The new face of the SI Series have been redesigned to be a technological machine, fitted with "smart factory" options and capabilities; a versatile unit that cover a wide range of pouching needs, from small to large pouch sizes; and flexible offering the fastest size change over for HFFS machines.
ENFLEX STD-14
Enflex exhibits its latest version of the STD-14 stand-up pouch machine. This update includes a number of improvements such as a new balcony clean design, faster size change over, main drive by servo rollers; external empty pouches reject system, etc. The STD-14 is the most competitive horizontal Stand Up Pouch pouching machine of its class in the market.
VOLPAK will be present at Hispack, from May 8th to May 11th, Hall 3, Level 0, Street D, Booth 434
More info: