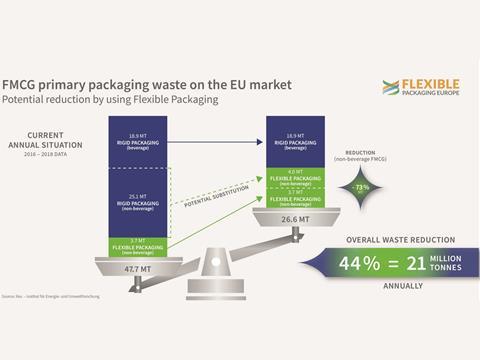 The report's authors conclude that for packaging the focus should not be on recyclability only but also and foremost on prevention. This can be achieved by a higher use of flexible packaging, which would lead not only to less primary packaging waste, they claim, but also to lower carbon footprint and use of resources.
Conversely, they say, a focus only on recyclability and achieving recycling targets might lead to the substitution of flexible packaging solutions by more easily recyclable, rigid packaging. This approach would clearly be detrimental for climate change and resource efficiency, besides running counter to the objective enshrined in the EU Packaging and Packaging Waste Directive to prevent the production of packaging waste.
That said, increasing the recyclability of flexible packaging is key if the industry is to embrace flexible packaging on a wider scale, says Jean-Paul Duquet, director Sustainability FPE, hence the importance of projects such as CEFLEX.
"From a strict circular economy point of view, the small amount of material used in a flexible packaging format is less easy to recycle and the thing is that at a Europe-wide scale flexible packaging it is not yet widely recycled. To rectify this, the flexible packaging converters together with the stakeholders of the entire flexible packaging value chain are joining efforts and actively supporting the CEFLEX project. The objective of having flexible packaging increasingly and significantly recycled in Europe will be achieved by combining improved infrastructures for collection, sorting and recycling, with new technologies to implement, in synergy with optimized design of the flexible packaging structure itself."
FPE is actively working to shape the conversation around packaging waste – particularly when it comes to the question of resource efficiency. "To help inform and explain the role of flexible packaging, and contribute to fair debate regarding sustainability, FPE has recently created and made available a comprehensive toolkit," says Mr Duquet. "This puts together flexible packaging and sustainability in visual formats, backed with facts and giving a holistic picture. The aim was to reduce complexity by providing a practical overview with facts and figures, at European level, on much-debated key issues such as circular economy and food waste. The toolkit is available to anyone interested in the subject, from the association's website."