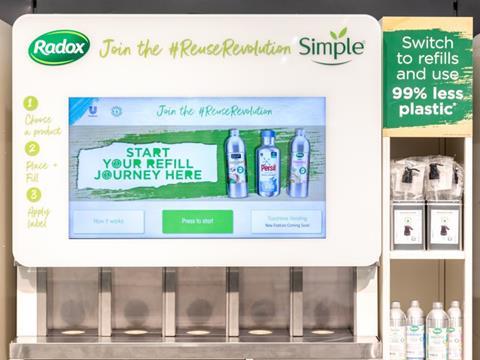 Unilever has announced that it is expanding its refillable packaging trials across the UK, including its first 'return on the go' refill trial, in selected Asda supermarket and Co-op convenience stores.
Following the successful launch of its largest refill trial in Europe in Asda's sustainability store in Leeds last year, Unilever's new 'test and learn' trials across this year will be the first of its kind at this scale in the UK, the company says.
Insights from the initial trial, as well as Unilever commissioned research, is informing their expanded trials this year. Uptake at Unilever's refill trial in Asda's Sustainability Store in Leeds last year exceeded expectations with weekly purchases of Persil from the refill zone reaching a third higher than the equivalent single use pack.
Different surveys and reports also showed that 94% of consumers in the UK are more likely to invest in refills vs buying new products in store if available, and 89% are likely to buy a product because its packaging can be reused. Almost a fifth of shoppers wanted a sealed product option (18%) and to be able to return empty bottles to store (16%). A quarter (25%) would be interested in a loyalty or reward scheme. Nearly a third revealed value for money offered by the Refill Stations was a key reason for being likely to purchase in the future.
In addition to its in-store refill trials, Unilever launched at-home refill product, Cif Ecorefill, in 2019.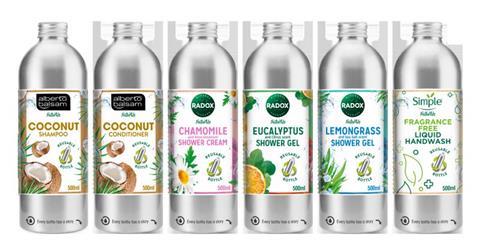 With the aim of gaining a deeper understanding of the likelihood and habits of consumers using refillable and reusable packaging, the trials will test different refill models, different store formats and in-store locations as well as testing the different shopper experiences that could enable long-term use of refillable products.
The expanded trials are in seven stores across the country, including Glasgow, York, Rugby, Milton Keynes and Leeds. Unilever is working with retail partner, Co-op, to test refills amongst convenience shoppers, in addition to customers at larger Asda supermarkets, and will be announcing plans for more stores and trials later in the year.
The trials will include a global first for Unilever testing 'return on the go' refillable products. Shoppers looking for a quicker 'grab and go' purchase can pick up a pre-filled stainless-steel bottle from shelf and return it in-store once used, where they are collected to be cleaned and re-filled. The pre-fill bottles will be available in-aisle, testing if integrating refillable products into usual shopping habits will increase uptake.
In addition, they will continue to test 'refill on the go', where customers can purchase and refill re-useable stainless-steel bottles using a standalone refill station.
To fulfil the circular process required to create and maintain the refill stations and to collect, clean and return the pre-filled bottles once used, Unilever has extended its partnership with Return•Refill•Repeat, who have designed the refillable and reusable stainless-steel and plastic free bottles to track the lifecycle of the bottle and number of times it has been used.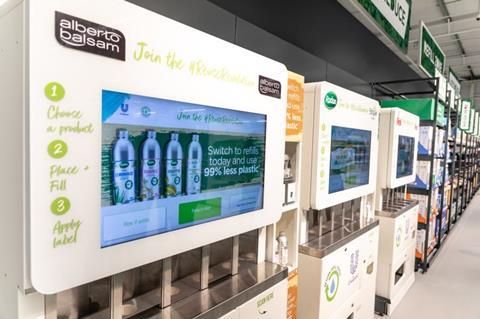 On the expansion of Unilever's refill trials, Sebastian Munden, Unilever UK & Ireland General Manager and Executive Vice-President, said, "To tackle plastic pollution with the speed and urgency needed, we are committed to creating scalable solutions which make it as easy as possible for people to make sustainable choices. We believe refills could be a gamechanger in our ambitions to halve our use of virgin plastic by 2025, however unlocking the full potential of the reuse economy would require a significant shift in how people shop. Using our well-known and trusted brands and working closely with retailers, we are testing different refill models on a large scale in order to continue to build our understanding of how to bring about a significant change most effectively."
Jo-Anne Chidley, Co-Founder of Return•Refill•Repeat explains, "Our goal is to democratise the circular economy, using Cradle to Cradle design, to work with businesses like Unilever to give consumers access to more sustainable products. By designing packaging to be circular and smart alongside advanced Refill and Return Stations, we are making it accessible for consumers to reduce their plastic consumption, track their impact, and change their behaviour from one of consuming packaging to reusing it."