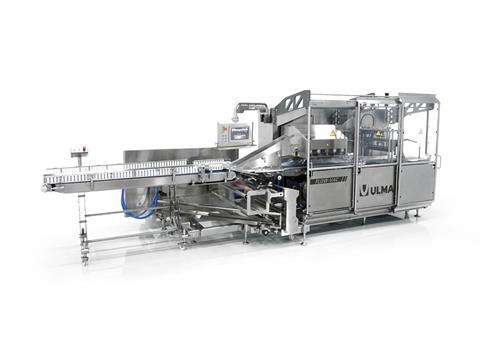 ULMA Packaging is expanding its FLOW-VAC machinery portfolio with the launch of its brand-new FV 55 SD flow pack wrapping machine.
Suitable for the packaging of cheese, fresh meat cuts, and processed meat, the company says that its new model has been developed in line with stringent food hygiene and safety standards.
According to ULMA, its new solution provides a complete end-to-end packaging solution. It has been designed to automatically place the products to be packaged in the bag created by the FV 55 SD without manual intervention, with the aim of reducing the risk of contamination and saving on labour costs. The machine then transfers the pack to a vacuum system in sync with the production line.
Ed Williams, sales director at ULMA Packaging UK, comments: "Automation capabilities have rapidly grown in recent years. The new FV 55 SD is a prime example of our commitment to pioneering new and improved packaging machinery, and demonstrates a sustainable, cost-effective, hygienic, and user-friendly solution for flow pack wrapping meat and cheese products."
Designed to further optimise the packaging process, the system automatically adapts the length of the packaging to the product, which ULMA says provides the threefold benefits of better aesthetic results, optimised materials use, and reduced packaging waste.
Furthermore, machine operators reportedly benefit from quick changeover times between formats and can use a human-machine interface (HMI) system to customise machine and production settings adjustments.
Williams concludes: "With a strong emphasis on hygiene, the easy to clean design and automation aspects of the new FV 55 SD, which limit manual handling of products, work together to reduce contaminant risk. This is so important for the food sector where striving for high standards of food safety and protection is paramount."