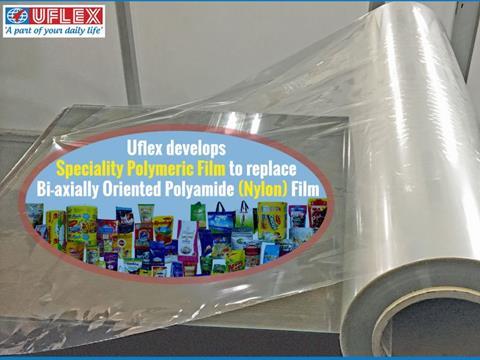 Bi-axially Oriented Polyamide (BOPA) Film (commonly known as Nylon) is characterized by high impact resistance and tensile strength, good stiffness and resistance towards fats, oils; dilute bases and acids.
Although BOPA Film finds extensive use in food packaging, especially for fatty and oily food, distilled goods packaging, agricultural products packaging or medical products, its barrier with respect to gases deteriorates rapidly with increasing humidity.
BOPA or Nylon films are hygroscopic i.e. they absorb moisture at ambient conditions which makes it rather tedious for the convertors to store them in dry conditions. A lot of investment by the convertors handling BOPA films goes towards de-humidification and air conditioning of storage space/ warehouses and further proper packaging in aluminium foil etc. to keep the substrate dry.
Additionally given the Indian context, BOPA Film is not easily available domestically and has to be imported more often than not. This film is expensive further posing inventory management challenges for convertors.
Considering that BOPA Film finds extensive use in packaging various products and further taking cognizance of the shortcomings of this substrate as mentioned hereinabove, India's largest multinational flexible packaging materials and Solution Company Uflex Limited has developed a speciality polymeric film to replace BOPA or Nylon Film from flexible packaging material.
One of the very many uses that the specialty polymeric film finds is oil packaging. Typically for manufacturing packaging material for oil, the new speciality film has been laminated with Polyethylene to fabricate a 2 ply packaging structure. The lamination process is also specialized to ensure superior and enhanced functionality of the packaging structure.
The new speciality film is a replacement for BOPA in its truest sense and can be used for manufacturing packaging material for all products that currently use the nylon substrate. Talking about this development, Mr. Jeevaraj Pillai, Joint President, Packaging and New Product Development, Uflex Limited said, "It took us almost 9-10 months to develop the new speciality polymeric substrate. Subsequently we converted it into a laminate to create a packaging solution that is much more functionally enhanced than that comprising BOPA. The new specialty film is much easy to handle without requiring any extra care by the convertors. Being a fully integrated flexible packaging solution company we are in a good stead to incorporate brand protection features like Top Holographic Stamping among other value added attributes. We are the only company in India to have manufactured this Speciality Polymeric Film to replace BOPA (Nylon). There is an encouraging demand for this film for manufacturing packaging material for various pharmaceutical products, distilled goods, fatty and oily food and agricultural products among others."
Commenting about the new speciality polymeric film, Mr. Ashok Chaturvedi, Chairman and Managing Director, Uflex Limited said, "The opportunity lies in the womb of the challenge itself. My team always proactively perceives the challenges faced by convertors and brands and subsequently engineers the most enhanced packaging solution to fairly address their pain points. This is what I term as Avant-Garde Value Engineering."
More info: