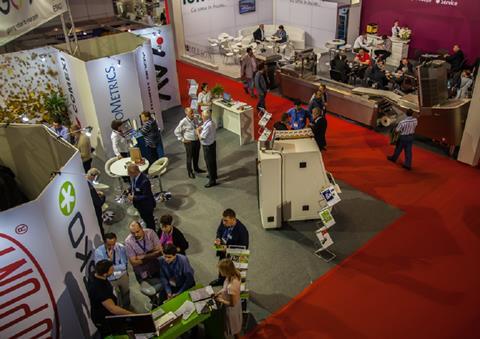 From Wednesday, may 16th, until Saturday - 19th of may, in B2 pavilion of Romexpo - Bucharest (Romania) there will be two B2B trade fairs: PACK EXPO 2018, Southeast European Exhibition for Packaging Industry and EXPO SHOP - Future retail solutions , the first exhibition dedicated to the retail industry in Romania.
For four days, the largest and newest pavilion in the exhibition center will turn into a mega-scene dedicated to the packaging and retail industries.
Here's what you'll see at PACK EXPO:
International presence
At this year's edition, over 30% of exhibitors come from 14 countries: Austria, Bulgaria, Brazil, China, Italy, Greece, Great Britain, Poland, Czech Republic, Turkey, Hungary, Albania, Slovakia and Romania. They come with new offer of products and services for the Romanian market.
LIVE technological show
More than 100 innovative equipment will be in operation throughout the trade fair: packaging solutions, packing, dosing, filling, marking and labeling, palletizing, logistics, stacking, packaging design, packing technologies for dairy industries, fruit-vegetables, pastry-confectionery, bakery, meat industry, non-food – these are just a few of live demonstrations.
Equipment presented for the first time
Of these:
Videojet 1860 (the most advanced inkjet marketer currently available on the market by Multidevelopment), Esko kongsberg c44 (a cutting table brought to Romania by Transilvae Group for the first time), Lachenmeier x1 stretch hood and automated logistics solutions for the first time in Romania by Ihope), TL 650 Webomatic (revolutionary equipment in Traysealers class awarded at Anuga Foodtech), Toppy Aspo Label 300 (paper roll handling equipment) or Toppy Inverter (switch and pallet changer).
Romanian Packaging Awards (2nd edition)
The only competition for packaging and labels in Romania is structured in five categories: compact cardboard packaging of the year, corrugated cardboard packaging (for retail), flexible packaging of the year, plastic rigid packaging of the year, label of the year. On May 16, Pack Expo will award the best packaging and labels.
Top speakers
Ministers, association presidents, food industry leaders, trade networks, equipment distributors, packaging manufacturers and labels will participate in the national conference "Packaging waste: Trends vs. Efficiency ", organized together with Infomediu Europa, FADI and in collaboration with the Ministry of Environment.
Young chef award: 1000 euros
"Young chef by Angst", the ready meal recipe contest organized in partnership with Ulma packaging, promotes innovative packaging through ready-made products made by young chefs with fresh and quality ingredients. The members of the jury are chef Sorin Bontea, Sorin Minea (angst) and chef Ioan Cristian Serb. Come on May 18th and May 19th to vote for the new young chef and you can be one of the lucky ones who will get the office food for 2 weeks from angst!
Tombola and awareness campaign "Consume smart and efficient"
Within the awareness campaign "Consume smart and efficient", Cris-Tim (Pack Expo partner for this campaign) will be sampling at its own stand at the exhibition with products packed in innovative packages. There will also be a raffle with prizes in Cris-Tim products.
More info: