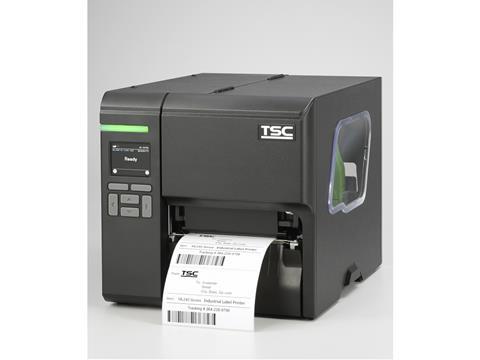 Space-saving footprint like a desktop printer due to downsized dimensions, but powerful as an industrial printer – TSC's new ML240P series covers exactly the niche of high demand in the market. Both versatile top-class all-rounders impress with their strong connectivity features and excellent printing quality while being extremely economical and flexible. The two models are equipped with a clear colour display ensuring a high operating comfort.
The thermal transfer printers ML240P and ML340P will be available on the EMEA market from June 2019. In comparison to the already very compact TSC models in this sector the dimensions of this new generation of high-performance industrial label printers have been reduced again significantly.
The intelligent combination of solid metal housing including media spindle, modularized base and modern printing technology enables a permanently steady, low-noise and at the same time highly efficient operation even with demanding applications. The adjustable longlife thermal printhead and self-diagnostic TPH Care mechanism ensure optimal print quality with various label materials. Bad dot detection offers the user peace of mind by alerting them to any pins in the head which might have blown – which otherwise would repeatedly produce unreadable barcodes without any way of noticing before it came to scanning.
The ML240P is available in 203 dpi printing resolution, the ML340P is available in strong 300 dpi printing resolution. Besides comprehensive sensors and modern interfaces, both models in particular also provide the user with a high definition 2.3" colour display with intuitive, customizable operator guidance and six menue buttons as prominent standard features.
Material changes can be realized quickly because the cover can be lifted up entirely. Due to the sophisticated printing mechanism the replacement of printhead and platen roller is possible without the need of tools, saving time and reducing cost of ownership.
With their small footprint of just 818 cm² the new reliable printers can also be used in restricted working environments where space is a premium. The range of applications is not limited for the ML models: The spectrum ranges from use in warehousing and logistics including goods in and despatch to manufacturing as well as to product- and shelf-labelling in retail and labelling of sample tubes and patient wristbands in the health sector.