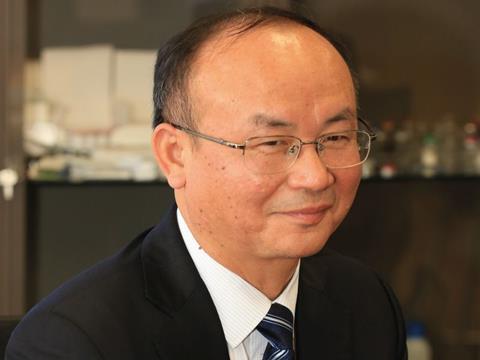 The sale of the Romaco Group to the Truking Group was finally completed on June 30, 2017. From now on, 75.1 percent of all Romaco shares will be held by Truking.
After concluding the contract of sale, the Truking management took the opportunity to introduce themselves personally to the Romaco workforce.
Romaco was officially taken over by Truking on June 30, 2017. As a result of the change in ownership the Chinese Truking Group acquired 75.1 percent of the total shares in the Romaco Group. The contract of sale with Deutsche Beteiligungs AG (DBAG) was signed on April 28, 2017. DBAG will surrender the remaining 24.9 percent of its shares in Romaco to Truking within the next three years.
To mark the final transaction, Truking Chairman Yue Tang and his delegation visited the Romaco production facilities in Karlsruhe (Germany) and Bologna (Italy). In his addresses to the workforce he stressed his great admiration for Romaco and outlined the first steps in the cooperation.
Long-term investment by TrukingMore strategic acquisitions are planned as part of the drive to strengthen the Romaco portfolio. Parallel to this, the various Romaco sites will be successively expanded and enlarged. The initial planning phase for the construction of a new plant in Bologna has already begun. A new laboratory will open up in China to support Romaco's research and development activities in the area of process technology. Tang is adamant: "We're ready to grow. Our aim is to take Romaco forward and increase our share of the global markets with a mixture of confidence, determination, patience and endurance."
Truking, based in Changsha (China), was founded by Yue Tang, the company's present Chairman, on April 28, 2000. Exactly seventeen years later on April 28, 2017, he signed the contract of sale to buy the Romaco Group. Romaco is Truking's first European holding.
A camera team from ZDF, the German public broadcaster, accompanied the Truking delegation during their inaugural visit to Romaco Pharmatechnik GmbH in Karlsruhe while Italian TV stations Rete 7 and Nettuno TV reported on the Truking management's address to the Romaco S.r.l. workforce in Bologna.
Romaco management to visit ChinaAt the end of July, the entire Romaco management team will travel to Changsha, in the Chinese province of Hunan, for a one-week workshop at the Truking headquarters. The Romaco Group Management will visit Truking together with the Managing Directors of the various production facilities as well as the Heads of the Sales and Service Centres. Employee representatives from Karlsruhe, Cologne, Steinen and Bologna will also be making the trip, which will provide valuable first impressions of the new parent company in China.
"Our experience of the Truking management so far has been thoroughly positive", emphasised Paulo Alexandre, CEO Romaco Group. "Despite the language barriers, communication with Truking has been extremely efficient and decision processes are very fast. That widens our leeway to develop new strategies which will strengthen our position in the market. Now that the transaction has been brought to a successful conclusion, we're looking forward to applying the measures adopted."
More info: