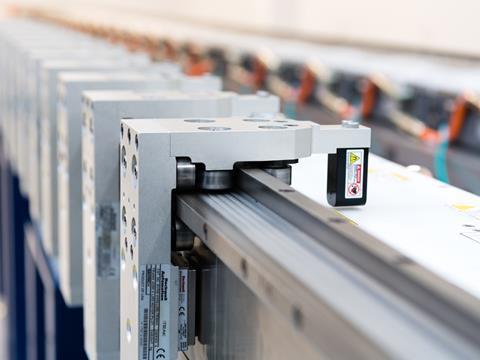 Meeting regulatory demands
For those who serve the food industry, there are also stringent regulatory demands to be borne in mind when it comes to product handling. Industrial PC provider Beckhoff Automation's eXtended Transport System (XTS) can help customers provide solutions to meet the numerous regulatory demands imposed upon them. The company's 'New Automation Technology' philosophy represents universal and open control and automation solutions that are used worldwide in a wide variety of different applications.
"Increasing productivity and safeguarding consumers' health are the two main challenges for food and beverage manufacturers," says managing director Stephen Hayes. "On the one hand, plant managers are expected to speed-up production and diversify their offerings, in order to keep up with increasing demand from more informed consumers. On the other, they must comply with a sector that is among the most strictly-regulated when it comes to hygiene standards."
The flexibility provided by the use of software rather than traditional mechanical conveying technology means that motion tasks can be carried out which might before have been difficult or even impossible.
"The XTS system is based on a simple, yet ground-breaking concept. Or, in this case, two concepts: first, the possibility for every mover on the track to glide independently; plus the combination of rotary and linear elements to create a customisable track.
"In fact, Beckhoff's XTS transport system combines the benefits of two well-known drive principles, linear and rotary, into a single mechatronic system. This has never been done before and allows manufacturers to create the perfect geometry for their application, no matter how complex."
There are no length restrictions for the entire path and the number of movers can also be customised. In other words, according to Stephen Hayes, the system is limited only by the available computing power of the industrial PC. On this track, movers can be positioned in different parts of the belt and travel independently; each with its own speed, acceleration and motion pattern. Alternatively, movers be combined into couples or clusters in order to create hoops that travel together at an established speed.
In addition, he says the XTS can be operated in any installation position, so it can be applied with maximum flexibility to match the specific needs of the production line.
Building faster adoption
We're also, of course, interested in the biggest challenges for this segment moving forward. For Mr Arlt, this comes down to building more confidence in these new technologies in order to encourage stronger adoption – particularly among OEMs, who he says may not always be thinking about the long-term benefits of such systems.
"The OEMs can build more flexible and faster machines but they may still be selling less right now. The biggest benefits of smart track technologies at the moment are probably for the end user, because they get higher throughput speed, flexibility, smaller footprint, more machines on the shop floor etc. We have to explain to OEMs that more and more of their customers are coming directly to us asking about how these technologies can benefit them, so if they're not investing in this technology now they may find themselves in trouble in the future – even if the short-term benefits seem small."
But he does feel that things are slowly moving in the 'right' direction. "In the beginning, nobody was sure how to use this technology but now customers are coming up with more and more ways to utilise it. Every year we see more interest in replacing traditional mechanical systems. In the next 5-10 years we would like to see far more clients feeling comfortable using this ICT technology. If this happens the product cost will fall and this will hopefully speed up adoption even further."