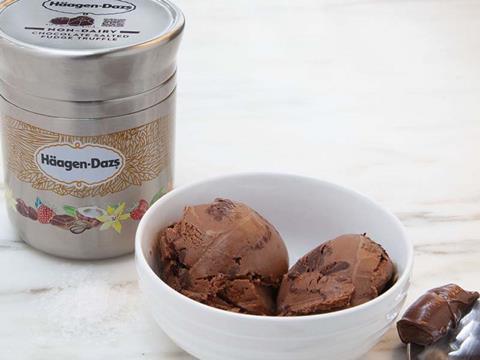 Against the backdrop of zero-waste initiatives and the growing influence of conscious consumerism, packaging innovators Touch have partnered with Nestlé Ice Cream to develop a reusable, durable container for its Häagen-Dazs brand, to be used within the new Loop circular shopping platform unveiled in January, as we reported here.
Loop, developed by global waste management experts TerraCycle, offers consumers the opportunity to shop smart with a focus on waste-free products and packaging. Products are delivered directly to consumers in durable packaging, which is then returned to the system for reuse.
According to Touch the initial challenge for Nestlé was a practical one. Retaining pack integrity and product stability within the technical constraints of the circular Loop system meant a 'deep-dive' into materials, manufacturing and print techniques, and a thorough understanding of the current cold chain. The resulting pack would need to survive at least 100 uses and be 100% recyclable at the end of life.
But alongside the functionality of the packaging, Nestlé also needed to consider the importance of consumer experience - emotion and brand connection.
'Häagen-Dazs is an iconic and extraordinary brand with a reputation for luxury and high quality,' said James Pryor, Creative Director at Touch. 'It was essential that this was not compromised by the need for durability.
'In fact, we used this opportunity to think beyond sustainability to create an even more premium expression of the Häagen-Dazs tub format and experience.'
Consumer convenience
Touch tested parameters such as freezing and melting times, ease of use, and in-hand feel. The double-walled pack means hands stay warm while contents are kept cool. According to the company, the sightly upturned lip and twist top allows easy opening 'without feeling too functional'. The pack shaping means ice-cream melts most quickly at the top, with rounded corners for improved scoop-ability.
Mastering materials
The choice of stainless steel for the cannister means the pack is durable, refillable and cleanable, ensures product stability throughout the cold chain, can separate into components compliant with both Nestlé and Loop's infrastructures, and is 100% recyclable once it reaches the end of its life.
Touch worked closely with Nestle's manufacturers and developed prototypes early on to ensure 100% technical feasibility and the smooth transition from design to production.