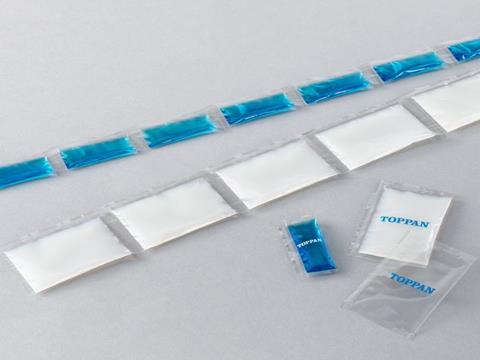 Toppan Printing has developed all-PET (polyethylene terephthalate) laminate monomaterial flexible packaging for individual packages.
The combination of PET-based GL FILM, from Toppan's GL BARRIER range of transparent barrier films, with PET sealant enables a more readily recyclable alternative to conventional individual packaging composed of multiple materials, often including aluminum. The manufacturing method and monomaterial structure also provide outstanding oxygen and moisture barrier performance as well as low adsorption to maintain content aroma and quality, the company says. This follows Toppan's previous announcement of GL-LP, an all-PP laminate monomaterial barrier film in its GL FILM range.
The all-PET monomaterial flexible packaging can be used for a wide range of food and pharmaceutical product packages as well as for shampoo, conditioner, and other liquid personal care goods. Demand for such goods is expected to increase, particularly in ASEAN markets, and Toppan is targeting revenue of ¥3 billion from this new packaging material and related sales in 2025. Sample shipments for the toiletry, medical, pharmaceutical, and food industries will begin in July 2019.
"By developing PET monomaterial packaging, we are able to meet today's demand for more environmentally friendly packaging and more effective recycling of plastic resources," said Haruhiko Noguchi, Managing Executive Officer of Toppan's Packaging Solutions business. "For this flexible packaging product we have applied the advanced technologies that have enabled us to secure a leading position in the global market for transparent barrier films over the last 30 years. It enables the same outstanding quality retention that people have come to expect from Toppan and is also aligned with our wider goal of contributing to a sustainable society."