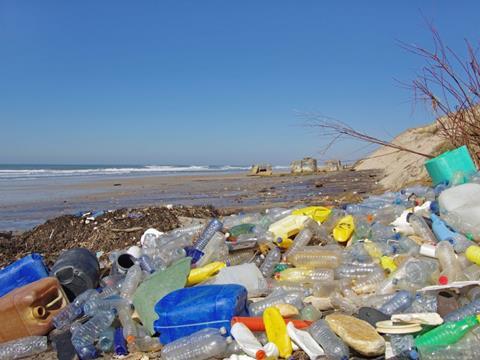 It is on this last point that robots can assist. Owing to their inherent flexibility and speed, robots will be at the core of these packaging lines of the future. However, their ability to handle novel substrates and formats will require development of end-effector and product infeed technologies.
From a robotics perspective, the main challenge with most greener, biodegradable packaging formats is that they are too fragile to handle with conventional grippers. Thoughtful engineering of more gentle end-effectors is required.
Some progress has been made in this space; Brillopak's R&D has yielded a patent-pending end-effector with a hand-like form, designed to delicately scoop up and place products. The team calls it the 'Glove'. The reason is the tool uses an action like a closing hand or flower to gently pick and release items with precision and control. Designed initially for a produce industry customer who wanted the flexibility to change the number of potatoes in a bag without impacting line speed, the 'Glove' overcomes the issue of complex reprogramming. That's because it can pick up each potato pack individually rather than relying on collation. In the line of the future, this end-effector technology could be deployed to handle items like the sugar-pod.
Vacuum is another inherently gentle end-effector technology that is likely to feature on future robotic systems. Brillopak's approach to vacuum handling is different to others in the industry in that the company uses cups with independent vacuum generators for greater control over the picking and placing operation. Bagged salads, punnets of berries and individual poppadoms are just some of the products that are currently being handled via vacuum, and Brillopak expects to see new applications emerging in the next few years.
The ability to handle a pack without damaging it is essential, but this is only one aspect of viable production. The line also has to run efficiently. With the trend towards shorter production runs, multiple SKUs within ranges and mixed cases and pallets, chances are, the lines of the future won't be dedicated to a single product either. Packaging machinery will need to be able to switch frequently between numerous different products, presenting a challenge for efficiency. The solution, emphasises David, will be to use the same robot head to handle multiple packaging and product types through interchangeable tooling and infeed systems.
To achieve this level of flexibility, changeover times will be of the essence. The operator will need to be able to select the correct end-effector, infeed system and palletising pattern at the touch of a button. Changeovers will, more often than not, be performed remotely, via a smart phone or laptop.
Vision systems will play a key role in the efficient running of these lines, not only for guiding the robot to pick up product in any orientation, but also for ensuring that ever more exacting quality control and traceability demands are met.
Be prepared
Whilst it might be years before some of the more radical nascent packaging technologies are market ready, future-proofing should be a feature of every automation project. "Our advice would be that any investment in automation today must be able to handle the packaging of tomorrow - even packaging formats that the market does not know about yet," notes David. What may seem like an impossible brief actually boils down to building more flexibility than ever into line design.
More info: