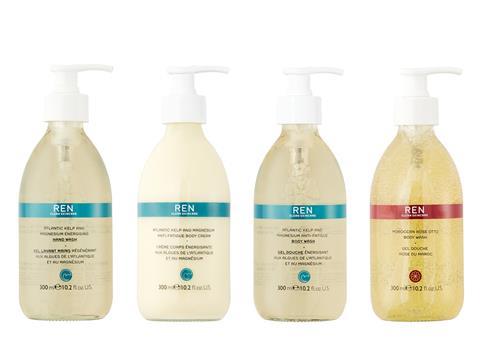 In this interview, TerraCycle CEO Tom Szaky talks to Arnaud Meysselle, CEO of REN Clean Skincare about the latter's partnership with Loop - Terracycle's global circular shopping platform.
REN Clean Skincare has a substantial sustainability platform. Please tell us about it.
REN Clean Skincare has adopted a holistic approach to sustainability, especially since pledging to be Zero Waste by 2021.
There's no silver bullet to sustainability, but the changes we've made demonstrate a commitment toward reducing waste through the use of recycled materials and recyclable and refillable packaging solutions. We've included as much PCR as is currently viable in the packaging of our latest launches, Clean Screen Mineral SPF, Non-Drying Spot Treatment and Clean Jelly Oil Cleanser, which have been designed with circularity in mind. We've also used reclaimed ocean plastic sourced by TerraCycle® in the production of a 100% recycled bottle, raising awareness of a larger climate waste problem.
With Loop, we're aiming to avoid waste creation altogether, providing refillable solutions that allow customers to return their packaging to be cleaned, refilled, and delivered time and time again.
How did the partnership with TerraCycle and its circular shopping platform Loop start?
Our partnership with Loop is an essential - and exciting - step forward in our pledge to become Zero Waste by 2021. REN Clean Skincare first partnered with leading recycling innovator TerraCycle in 2018 as one of the first prestige skincare brands to offer a product in a 100% recycled PET (Polyethylene terephthalate) bottle, 20% of which is reclaimed from the ocean. Showcased in our award-winning Atlantic Kelp and Magnesium Body Wash and Lotion, with more packs to follow, the reclaimed plastic content is collected from oceans, beaches, rivers, lakes and the banks of those waterways by global NGOs mobilized through TerraCycle's network.
How does the partnership with Loop fit with REN's priorities?
Loop's vision to create a circular refillable system aligned with our Zero Waste initiative so well that we were the first premium beauty brand to sign up. A subscription service can be daunting for some customers, but to ours, who engage with our sustainability ethos, we are delighted to offer a mess-free, convenient refill option that keeps our packaging from becoming waste in the first place.
What can consumers expect from REN Clean Skincare in Loop?
Six of our bestselling products will be available in glass bottles, making them easier to clean and refill, with a single-material plastic pump, which is easier to recycle than standard pumps with metal springs.
Loop has an entire team dedicated to creating stringent design specifications for Loop packages to ensure they are durable, transport well, hold temperature, and protect the products inside. With this collaboration, consumers can expect the same luxury products with clean, high-quality ingredients, now in beautiful, durable packaging with the added premium service and convenience of delivery and pickup.
What was REN's process with its packaging in order to join Loop?
As the first premium beauty brand to join Loop, there was an element of learning together. We were lucky to have a transparent relationship where we could test packaging and adapt on the go. Many ideas and packaging concepts later, we have our refillable glass bottles that are durable enough to be cleaned and reused over and over, while our pumps are being dismantled and recycled. With advancing technology, the aim is that these pumps can be cleaned and reused alongside our bottles before eventually being recycled.
However, it's an ongoing process. With Loop, we will be continually reviewing and testing our refillable solutions to ensure they are compatible with the Loop circular model while staying true to the REN Clean Skincare brand.
What are the learnings to carry into 2020, be they issues of packaging design, supply chain, logistics, marketing, public opinion, or educating consumers around the circular economy?
Education is the key factor in minimising waste. We know our customers are keen to lessen their environmental impact. As recycling methods differ from country to country, and even council to council, it can be hard to find relevant information. It's up to us to lobby councils to become more waste-conscious, while also designing packaging that can be recycled more easily within current facilities and educating customers through our communications to dispose of it correctly to ensure it reaches the appropriate recycling stream.
In addition to Loop, what are REN's other plans for innovating for the future?
We have exciting upcoming projects that fulfill the three key areas of our Zero Waste pledge. With Loop, we explore refillable and reusable solutions, but we're also working to redesign our packaging into fully recyclable vessels, with no metal pumps and single-type plastic.
We've broken new ground with Infinity Recycling, which involves the launch of a new pack using circular polymers certified by SABIC, a global leader in pioneering sustainable material solutions by facilitating reuse of the planet's natural resources. We are proud to be the first luxury beauty brand to support this groundbreaking recycling technology that is capable of regenerating plastic waste to deliver certified recycled plastic identical to virgin, a great addition to current technologies.
Our upcoming launches will maximise the use of PCR plastic usage and recyclability, working towards our pledge of being Zero Waste by 2021.
What is your advice for other companies (big and small) who want to design into the circular economy but don't know where to start?
It's not being wrong you should fear - it's not trying. With new technologies constantly arising, sustainability can be complex and takes constant review to stay up to date. At REN Clean Skincare our main ethos was Clean to Skin and we have proudly evolved by adding Clean to Planet with a 50/50 importance. If you build it into your brand, it will soon become intrinsic to your processes.
Remember, there is not one solution to sustainability, the approach you take will depend on your vision of sustainability, your consumer and your product. Don't follow other brands for their action, make your actions as part of your product offering and brand purpose.