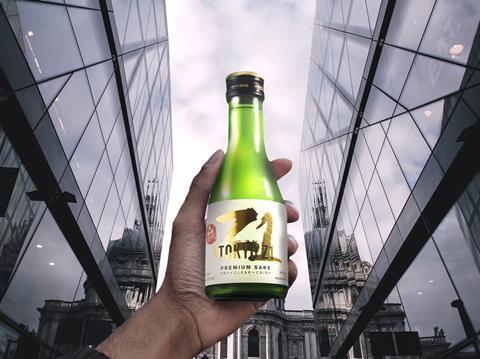 Pemberton & Whitefoord (P&W), a London-based design consultancy with over 30 years of experience as packaging design specialists in retail and FMCG, shares its recent work on a project for Z1 Sake, Japanese rice wine.
Sake is a Japanese rice wine that most people in the UK will know of, but surprisingly few will have tried. It remains rather mysterious and enigmatic which ultimately means that it rarely appears on restaurant tables as a food companion and is even more rarely found in a British consumer shopping basket. However, Japanese food is more popular than ever, and becoming far more accessible via high street eateries such as Wagamama, Itsu and Yo!Sushi.
Furthermore, there is great interest in trendy pubs, bars and cafes for drink experiences that are out of the ordinary and oer interesting alternatives to predictable beverage choices.
The brand name came about based on the client's wish to inspire consumers who had never tasted sake to discover something new – his expression was "zero to one". This was shortened to Z1 and finally became Tokyo Z1 in order to allude provenance. The product is brewed in Ome City in Western Tokyo by The Ozawa Brewery which has perfected its trade since 1702.
Working in collaboration, two Japanese companies spotted a niche in the market. They decided that it was an optimum time to launch a sake product that was specially targeted to the UK consumer. The project was commissioned by ZENNOH International and Nihon Shurui Hanbai Co Ltd. P&W was asked to use its experience to produce brand principles and ultimately a creative solution. The design was expected to project overt Japanese stylistic cues and heritage, yet appear: contemporary, enticing, accessible and perhaps most importantly, have a clearly understood proposition.
The design, inspired by Japanese calligraphy, was crafted by P&W using shuji brush and ink techniques. The colours used pay homage to conventional sake labels, but a modern twist was introduced by utilising Western sans serif typography. The paper specification and foil blocking nish make the design both tactile and impactful.
The product will be available in 180ml bottles, retailing around £8.50 - £10.