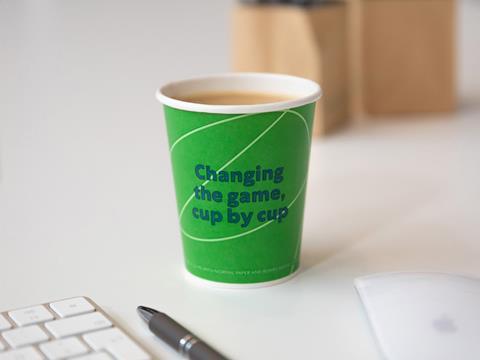 Siegwerk, a provider of printing inks for packaging applications and labels, and Kotkamills, a Finnish paper and paperboard manufacturer, have joined forces with a vision to create solutions that use water-based dispersion barrier coated paperboard to replace traditional polyethylene (PE) coated board.
Since 2018, Kotkamills has used its technology to produce barrier boards for hot cup and food packaging end uses, in addition to folding boxboard grades. The company says that its new water-based dispersion barriers make the paperboard compostable, repulpable and easy to recycle; the fibres used are from PEFC and FSC-certified sources.
Siegwerk's newest inks and coatings seek to intensify the printing properties of Kotkamills' paperboard, resulting in what the companies describe as "excellent printing performance and high-quality surface protection."
"With UniNATURE, our recently launched water-based ink system formulated with renewable and natural components, we add a sustainable ink and coating solution for improved packaging recyclability," says David Charquet of Siegwerk.
"We are very delighted to work together with Kotkamills to provide innovative and circular solutions that ensure high-quality packaging performance while reducing the environmental impact. Together we aim for packaging circularity and want to accelerate change for good."
Päivi Suutari, VP RDI at Kotkamills, adds: "Circularity is essential now and will be even more so in the coming years. We are very pleased that our collaborative effort with Siegwerk is bearing fruits that the packaging industry and printers can benefit from by offering to brand owners and consumers high-quality and genuinely sustainable products. Together we accelerate change for good."
With this project, the partnership ultimately hopes to offer packaging markets a viable alternative to traditional plastic coatings in fibre-based packaging, improving recyclability and circularity and resulting in an increased value of wastepaper, improved fibre recovery, and a noticeable reduction of waste.