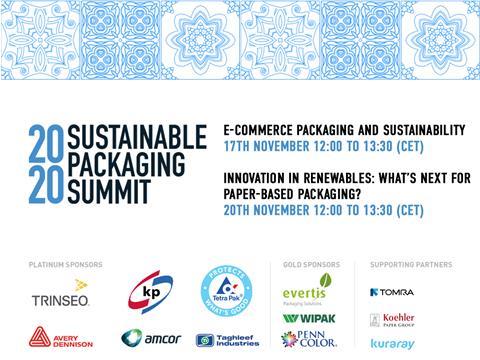 We are bringing you two Sustainable Packaging Summit discussions this week, where we will be joined by experts from every link of the packaging value chain.
To watch all of the events live, simply click here to register for free (or log in if you are already registered).
To put this week's events in your calendar, click here.
---
E-commerce packaging and sustainability 17th November 12:00 to 13:30 (CET)
E-commerce has been slowly transforming FMCG over recent years – but the 2020 pandemic has accelerated shopping migration from bricks and mortar to home delivery in a way that none of us foresaw. Home-delivery supply chains are diverse, complex and challenging, and require us to rethink long-established paradigms about resource efficiency, along with the protective and communicative functions of packaging.
In this session, our panelists share the latest thinking on optimization, waste reduction, and sustainable unboxing.
Speakers:
Kim Houchens (Director, Customer Packaging Experience, Amazon)
Corné Huijben (NVC Netherlands Packaging Centre)
Thomas Regenhardt (Head of Packaging, HelloFresh)
Innovation in renewables: what's next for paper-based packaging? 20th November 12:00 to 13:30 (CET)
As the world grapples with the plastic waste problem, the paper industry identifies opportunities in packaging applications to provide widely recycled, renewable fibre-based alternatives. In this panel, we will be discussing the potential for paper-based packaging to displace plastic, and the possibilities and limitations of paper.
We'll also be looking at the latest advances, from paper bottles to corrugated aggregators, and exploring where the cutting edge of innovation will take fibre technology next.
Speakers:
Anna Papagrigoraki (Sustainability Director, CEPI)
Alexander Rauer (Product Manager, Flexible Packaging Paper, Koehler Paper)
Dick De Koning (Founding Partner, PackZ)