It's safe to say that the single-unit dose laundry detergent pod has become a ubiquitous product on shop shelves across the world. But, who can take the credit for inventing it? One company, Dropps, claims this title - and its business model is arguably as innovative as the product that it became known for.
Fin Slater spoke with the company's CEO and founder, Jonathan Propper, about investment, sustainability, and its unique business-to-consumer model.
---
Dropps just secured its first external investment - $16 million from London-based "ANTI-VC" firm, The Craftory. Could you give us a bit of background on this and explain its significance for your company?
Well first and foremost, The Craftory is not just another venture capital fund. They consider themselves an "Anti-VC" firm, as they provide permanent capital to mission-driven brands that have the greater good in mind, including both society and the planet. They encourage slow, sustainable growth which is unheard of for the average VC firm; especially when it comes to direct-to-consumer companies like ours.
The mission of The Craftory aligns flawlessly with Dropps: we both believe that sustainability and affordability don't have to be mutually exclusive. The co-founders of The Craftory, Elio Leoni Sceti and Ernesto Schmitt, are veterans of the consumer-packaged goods industry, and know exactly what it takes to set us up for a future where sustainability is more than just a trend, but part of everyday life that is accessible to the masses. In fact, TheCraftory only invests in CPG brands, which speaks further to their expertise in the field and our willingness to partner with them.
For our readers who might be unaware, could you explain Dropps' flagship product?
Our flagship product by far has to be our laundry detergent pods. In fact, we're credited with inventing the single-unit dose laundry detergent pod four years before "big laundry" entered into the category. We figured: "Why ship big bottles of water around the country? There's water already in the machine - why not remove it from the detergent entirely?"
We noticed the unit dose concept being used in another industry and adapted the technology to create the very first liquid unit dose laundry detergent pod. When Dropps laundry detergent pods were first developed, it was important for us to eliminate all the unnecessary additives, fillers and water to create the most efficient pod product which results in a major cost and emissions savings for both our company and the consumer.
Dropps laundry detergent pods weigh in at just 10g and feature a single layer of dissolvable film. In comparison, other competitors in the space weigh in at 25g+ with multi-chamber products that are full of water, unnecessary additives, and colorants. Other brands use multiple colored chambers as a marketing tactic. At Dropps, we believe that color doesn't clean - there's no reason to include these ingredients used solely for marketing purposes.
Dropps pods are described as "biodegradable" – can you tell us about how your pods break down, as well as which LCAs/certifications Dropps has used to prove this?
Absolutely. We measure up to some tough standards to make sure we remain convenient but with a conscience. Our pods are composed using a water-soluble film membrane made from poly-vinyl alcohol (PVOH). When the film dissolves in your washer and enters the water stream, microorganisms (including bacteria, yeasts, and fungi) that commonly exist in water treatment plants are capable of breaking down polyvinyl alcohol to water and carbon dioxide.
Though we currently do not have LCA's on our products at this time, we have reformulated and developed new product lines with the EPA's CleanGredients ingredient database as a guiding resource. CleanGredients is the definitive marketplace for chemical ingredients whose formulations have been pre-approved by the U.S. EPA for use in Safer Choice-labeled products.
Dropps was awarded the EPA Safer ChoicePartner of the Year title by the U.S. Environmental Protection Agency (EPA) for outstanding achievement in the formulation and product manufacturing of both consumer and institutional/industrial products. Dropps also qualifies for the Safer Choice label by meeting the EPA's Safer Choice Standard, which includes stringent human and environmental health criteria.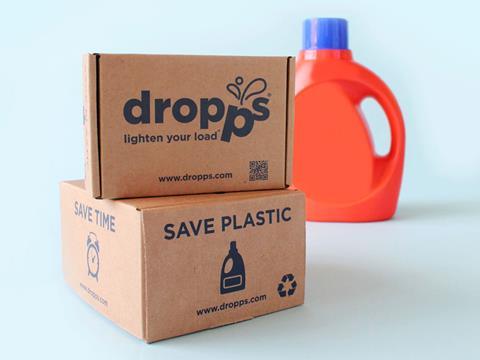 Over the past year, we have successfully achieved carbon-neutral status, and we now offer free carbon-neutral shipping on all products, a benefit not seen across the market with our competitors. As the market has grown, we noticed our competitors prioritize either affordability or sustainability.
Dropps, on the other hand, believes that the consumer can have it all: safe, effective, and eco-responsible products that are both convenient and economical. Not one thing at the expense of another. It is our goal to design products that allow us to offer better alternatives - both from a formulation and packaging standpoint.
What can we expect from Dropps in the next five years?
With the investment from The Craftory, we plan to grow our staff and expand our infrastructure, in order to continue to offer the most sustainable home essential goods around. This next chapter in our company history requires innovative thinking and new-age solutions to ensure we are at the forefront of our society's inevitable sustainable and renewable future.
We intend to enter into new product categories and possibly even new markets, as our customer base grows over the years.