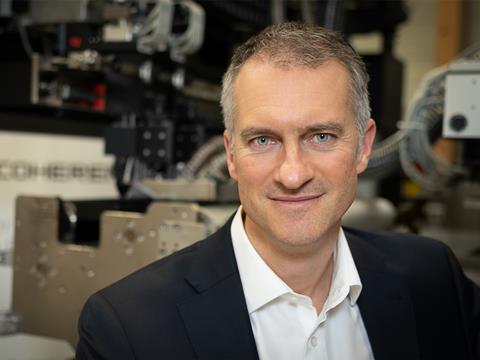 According to Alexander Roth, Vice President and General Manager Industrial Laser Systems at Coherent, laser technology can boost efficiency, cost-effectiveness, and productivity.
Your elevator pitch: introduce and sell us your company in no more than 280 characters.
Coherent laser machines leverage our decades of experience and in-depth applications expertise to deliver manufacturing solutions that enable our customers to perform cutting, perforating, marking and other converting tasks faster, more efficiently, and with better results.
Where are your company's locations? Are there any specific challenges or advantages relating to your geographical location that you could tell us about?
Coherent machines are manufactured at six sites on three continents and we are present all over the world with service and support. Wherever there is packaging production, Coherent has a service unit nearby.
Tell us a surprising fact about the market you work in.
Laser technology is more precise, more flexible, and, unlike other production technologies, contact and wear-free. Surprisingly, there are still packaging manufacturers who use other production techniques instead of profiting from the numerous advantages of laser technology.
At Packaging Europe we like to watch trends and areas of innovation as they evolve. Can you tell us something we might not be aware of that is driving technology in your sphere?
Resealable packaging is increasingly important in order to avoid food waste. Only lasers enable the production of packaging that is both easy to open and properly resealable. Another trend is the recycling of packaging which requires a monolayer film; this is also supported by lasers.
What would you say is the biggest common misconception that you encounter in your business?
Many consider lasers a scientific tool and have little understanding of their advantages for industry. Packaging companies don´t understand the way a laser machine functions and the benefits it can offer. We want to show people how lasers can improve their productivity.
If the wider packaging industry could be transformed in some way, what kind of change would you like to see?
There are so many possibilities for employing lasers in packaging production. We want to help get these innovations implemented because they will deliver cost and quality benefits to manufacturers, and also support more environmentally friendly production.
…and how do you envisage your company changing the industry in the coming years?
Our technology will help our customers cope with the challenges of the future. Be it the processing of monolayer films or the production of resealable packaging – we are ready with cost-effective, easy-to-use manufacturing solutions.