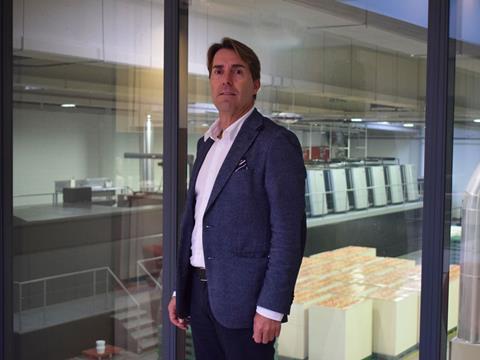 In this edition of our Rapid Interview series, we talk about the "green revolution" with Spanish packaging manufacturer Alzamora Group.
Introduce and sell us your company in no more than 280 characters.
Alzamora Group is one of the leaders in the cardboard packaging sector with more than 120 years of experience in a wide range of products. Sustainability is a key pillar that has led us to develop revolutionary and sustainable packaging solutions in different key markets as our LatCub, a biodegradable and recyclable substitute for plastic wrap and rings.
Where are your company's locations? Are there any specific challenges or advantages relating to your geographical location that you could tell us about?
We have production sites in Spain and Portugal, which have given us different advantages. On the one hand, being located on the border between Spain and France allows us to provide an excellent and effective service at European level. On the other hand, the geographical and political closeness of Lisbon to Africa has really opened more strategic markets like Angola and Morocco.
Tell us a surprising fact about the market you work in.
Most consumers are unaware of the strong influence of packaging on their purchasing decision. Usually, there is a strategy that pushes them to choose a product, previously well studied and defined. At Alzamora Group we have a specific department dedicated to R&D which works to improve existing packaging and to find new solutions. Furthermore, we are now in a position where we can help our customers to create a more suitable pack according to the current situation. The possibility of creating and helping to improve existing packaging is an important fact for us.
At Packaging Europe, we like to watch trends and areas of innovation as they evolve. Can you tell us something we might not be aware of that is driving technology in your sphere?
In recent years we have noticed that most customers are more concerned about sustainability. For this reason, at Alzamora Group we started to develop a new product line called "Green Packaging Planet", which is specially focused on helping our customers to reduce and improve their products environmentally, maintaining the same level of cadence and effectiveness. Some of these products are LatCub, BotCub, and ENOVO.
What would you say is the biggest common misconception that you encounter in your business?
We think there is a common misconception in the packaging sector related to deforestation. Most people think that if you work with cardboard, you are damaging forests, and this isn't true. At Alzamora Group we work with suppliers who manage sustainable forests, respecting all environmental measures and betting on the circular economy. This can guarantee the material we use and can give us forest certificates like FSC and PEFC.
If the wider packaging industry could be transformed in some way, what kind of change would you like to see?
In our case, we must talk about our past, because the change we wanted to see is happening right now. Some years ago, we started what we call our "green revolution", with the goal to force the reduction of plastic for biodegradable and recyclable materials. We think that companies like us have the power for change and improvement. For this reason, we didn't wait for change, we made it happen.
…and how do you envisage your company changing the industry in the coming years?
We will contribute to an important ecological change by becoming one of the leading companies offering biodegradable and recyclable solutions, replacing the current ones. In the meantime, we have developed many disruptive solutions as LatCub, the biodegradable packaging that replaces the plastic of beverage cans with cardboard. This new product has made an impact around the world and has won different worldwide awards, such as the World Beverage Innovation Award recently.