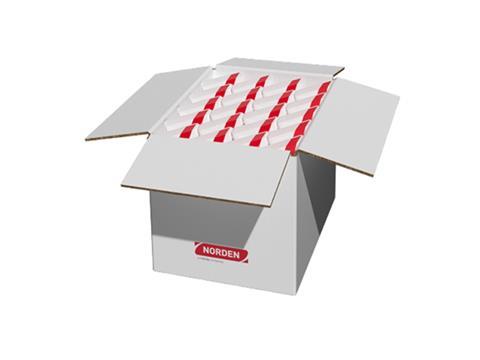 Norden, a supplier of high-performance tube filling systems, has revealed a new tray packing machine.
"Traditionally, tray and case packing solutions have been designed for a reduced number of SKUs and for the speed 150 tubes per minute and upwards. The latest machine release from Norden is a tray packing machine for connection to a single head tube filler with built-in flexibility, making automation of your production simpler than ever," says Lars Hammarstedt, sales and marketing manager at Norden.
The company says that it was motivated to invent the machine, which places tubes either in shipping boxes or in trays, to be placed on the supermarket shelf, due to the tiring and monotonous nature of physically packing tubes in boxes.
According to Norden, the payoff for the machine is fast and, for this reason, many companies choose to automate the process.
Norden has aimed to make sure that no previous experience in robot handling is necessary to master the process of changing formats from one box to another box size, or between trays and box packing. The NTP80 Tray packer can reportedly be moved on a pallet truck and connected to any tube filler in the 60-80 tubes/min range.
"We´ve seen a lot of interest from cosmetic companies for this machine, but also from food producers," concludes Hammarstedt.