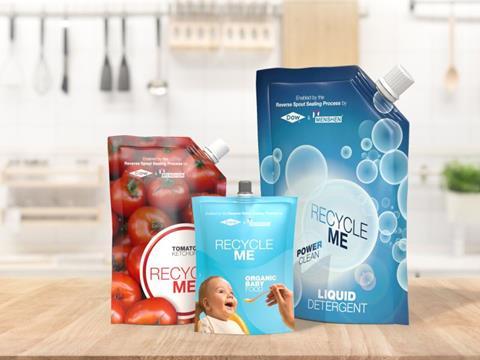 By 2030 all plastic packaging within the EU will need to be recyclable or reusable. But the devil of how this goal can be achieved lies in the detail. Flexible packaging made from monomaterials has emerged as a significant facilitator of this goal. Indeed, the recent K Show, as a snapshot of the plastics industry, demonstrated the huge shift across the industry toward simplification (and particularly toward polyolefin-only substrates) since the 2016 edition. Elisabeth Skoda unearths how companies across the value chain are facing the monomaterial challenge.
Flexible plastic packaging is a growing segment in the packaging industry. Research from Smithers shows that total sales for flexible packaging worldwide will reach $228 billion in 2019 and are set to grow at an annual average rate of 3.3 per cent, reaching $269 billion in 2024. Flexible packaging manufacturers are keen to highlight the benefits of stand-up pouches, sachets, films, bags, liners, or wraps compared to rigid packs, highlighting their potential to safeguards the quality and integrity of package contents while also being lightweight, which can result in an overall lower carbon footprint compared to rigid packaging alternatives such as glass and metal.
However, while rigid materials are primarily monomaterial-based, flexible materials have traditionally been multi-material, consisting of several layers of different types of plastics and often also including aluminium, which makes recycling more difficult.
Design for recycling
A tool published on the Borealis collaboration platform EverMinds, the '10 Codes of Conduct for Design for Recyclability,' presents a set of guidelines for polyolefin packaging design. Monomaterials play an important part in this.
Borealis and Borouge set out to develop novel polyolefins-based monomaterial solutions. Geert Van Ballaer, Borealis head of marketing consumer products, explains the reasons behind this. "Most recycling centres are equipped for PE, PP, and PET. The use of monomaterials makes collection, sorting and recycling more efficient. Our new full PP laminate with high barrier properties is an alternative to packs using aluminium foil as a barrier layer. This improves recyclability because as an inseparable barrier layer, aluminium foil is problematic in the recycling process."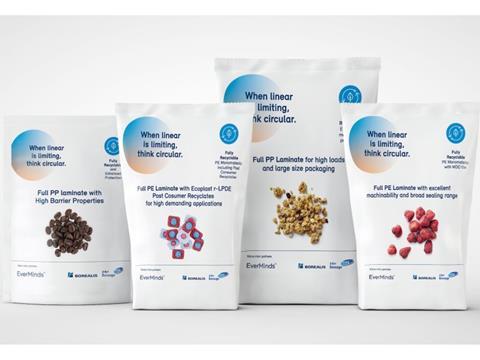 Following the launch of their Full PE Laminate in 2016, a new collaboration between Borealis and Borouge has generated a series of new and fully recyclable monomaterial pouch solutions for both PE and PP-based materials, including pouch concepts made of PP with a full PP laminate with high barrier properties, a full PE laminate described as having good machinability and broad sealing range and a full PE laminate containing recycled material that is fully recyclable into high quality recyclate in the closed-loop process.
"With the exception of the Full PE Laminate made using Ecoplast r-LDPE, which contains both virgin and recyclate material, the new solutions are composed of virgin material based on the Borstar® technology," explains Mr Van Ballaer.
Spouted pouches
Also addressing the challenge of making flexible materials more easily recyclable, Dow and Menshen earlier this year announced their new Reverse Spout Sealing Technology, which enables the production of spouted pouches made of monomaterial films.
"We basically reversed the idea of where and when the heat needs to be applied during the spout sealing process," explains Dr Peter Sandkuehler, global application technology leader at Dow's packaging and specialty plastics business. "By transferring the heat from the pre-melted spout base directly to the sealant layer of the film, we've solved two challenges at the same time: how to easily seal spouts to monomaterial films, and how to prevent the hard spout ribs from cutting into the film."
The new process is designed to easily seal spouts in more heat sensitive, monomaterial structures made from all polypropylene or all polyethylene packaging layers. Rather than traditionally applying the heat from outside the pouch forming film to melt the seal layer and the spout, the latter is pre-melted at its base before insertion into the pouch and sealing.
"The beauty of the process is its simplicity," says Sarah De La Mare, business development officer at Menshen. "It is actually more logical to apply the heat from the inside rather than from the outside, whether you use monomaterials or not. We are currently working with several machine manufacturers to ensure that this technology can be integrated into new and existing spouted pouch making lines."
Reversing the traditional sealing process helps reduce the excess heat needed to be applied from the outside of the film to seal the inner, lower density film layers to a high-density spout base. At the same time, the packaging structure is less dependent on a film's thermal resistance and film cut-in is avoided, resulting in what the company describes as good quality spout sealing and a pouch with shelf appeal.
High barrier solutions
Many companies have been developing monomaterial barrier packaging solutions over the last year or two, from chemistry giants such as Dow, Borealis and ExxonMobil down through the value chain with market leaders such as Mondi, Amcor, Huhtamaki and Constantia. For instance, Sustainability Awards 2019 finalist Jindal Films recently launched monomaterial high barrier PP solutions in cooperation with Mondi and Unilever. The new 'PP-rich' film barrier laminate can run on high speed horizontal pouch machinery to fill sensitive dehydrated powder soups for Knorr.
"The market is extremely responsive to our recent technical innovations that enable the switch to OPP films or laminates, as most customers are increasingly aware of the pending design guidelines that are being developed by CEFLEX to be issued in 2020," says Laurent Chantraine, business development manager, flexible packaging, Jindal Films Europe.
He acknowledges that some more demanding end-use segments, such as liquid packaging, have higher performance requirements, and more time will be needed to find a suitable compromise, but is pleased with the results of the cooperation.
"The switch to a PP-rich solution gives companies a good compromise in terms of product protection (barrier to humidity, aromas or gases), promotion (matte or glossy, high stiffness, good aesthetics and haptics) and performance (printing, lamination, packaging and filling operations)."
The machinery perspective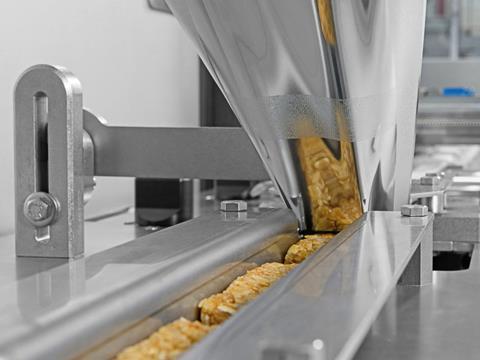 Torsten Sauer, project manager sustainability at Robert Bosch Packaging Technology GmbH has also observed an increasing use of monomaterial packaging due to the ongoing drive towards a circular economy, and with it an emerging trend for films made from polymer monomaterials.
"Conventional multi-layer composite films are difficult to recycle because of the need to separate the different film layers. What's more, many countries do not have the necessary recycling systems and processes in place to recycle complex laminates. In contrast, monomaterial films are fully recyclable as all layers are made of the same type of plastic, which makes sorting easier and leads to cleaner recycling streams. Bars, cookies and crackers for example are usually wrapped using polypropylene (PP), which is often a sufficient barrier. Depending on the packaging application, this can be either CPP (cast polypropylene) or OPP (oriented polypropylene).
From a machinery point of view, the transition from composites to monomaterial films can be complex, as he explains, most importantly as monomaterials impose high demands on the sealing technology, especially in the high-output range.
"Heat sealing is still the most used technology, due to its robustness and good sealing results. The sealing window is much smaller for monomaterials, which means the parameters sealing time and temperature have to be aligned precisely to prevent damage to the heat-sensitive outer layer while ensuring the sealing integrity of the inner layer. With heat-resistant composites this is unproblematic; but in the case of heat-sensitive monomaterials this can easily lead to defective seals and damaged products, resulting in lower production efficiency."
He points out that this must be addressed by optimally coordinating the three sealing parameters of pressure, temperature and time to create the perfect seam using monomaterial films at different film speeds and constant energy input."What's more, these technical challenges have to be mastered for a range of different monomaterials. This can only be achieved through the continuous improvement of sealing technologies in order to adjust the fin and cross-sealing tools to the new conditions. In addition, a change in stiffness and elasticity of the material can influence the performance on the packaging machine, for example when film speeds vary during production.
Bosch Packaging Technology has been testing a wide variety of packaging materials with customers and cooperation partners at its technical centre in Beringen, Switzerland with the goal to optimise its systems and sealing technologies to meet the specific requirements of the different materials. The overall aim is to achieve greater sustainability without compromising product protection, seal integrity and packaging speed. Flow wraps have established themselves as popular packaging for a wide range of products.
"With monomaterials, the biggest challenge is the sealing of the films at high speeds. Here we are already achieving good results in tests on our horizontal flow wrapping machines," concludes Mr Sauer.