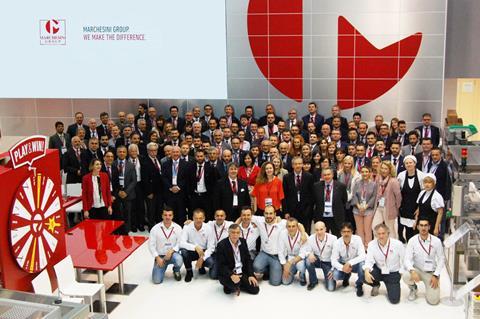 The Marchesini Group takes its key packaging products to Germany. A new and amazingly technological booth in the name of Italian hospitality.
Three years after the last edition, the Marchesini Group returns to Interpack, the key venue of the year for manufacturers of pharmaceutical and cosmetic packaging machines. From May 4th to 10th at Hall 8a (Booth A65/A79) at Messe Düsseldorf, customers will be able to admire four lines and 13 stand-alone machines that cover almost the entire panorama of the primary and secondary packaging process: from blisters to syringes, from stickpacks to jars and their packaging into bundles and boxes.
Next to the well-known Unica line for packaging pre-filled syringes and the Stery line for aseptic packaging, there will be brand new machines, which you can admire by visiting the stand. Amongst them is the the new BL A525 for the pharmaceutical sector - designed and developed by Neri Division - an incredibly flexible machine which can be put in line with the ultra-technological Integra 520 V blister packaging line. The BL A525 can accommodate all the printing and vision systems available on the market. The new BL A 420 CW machine for carton labelling, Track and Trace and checkweigher will also be on display. This solution is much more compact than the classic model and of the versions currently on the market. Guests at the stand will be able to see MC 820TT in action, a new case packer for Track and Trace, designed to offer a complete machine for customers' requirements but also available as a "standard" all-inclusive version.
As for cosmetic packaging, a line for jars with a brand new end-of-line unit has been prepared especially for Interpack with the new MAV 60 top load cartoner and the new Farplus C automatic wrapper. Compared with the previous version, the MAV 60 has a robotic product infeeder and a system that picks and stands the carton up, which improves speed and ergonomics. The new Farplus C automatic wrapper is incredibly ergonomic and easy to clean. It has a Robocombi product infeed system and product by-pass outside the machine to ensure non-stop production at a rate of 80 bundles per minute.
As always, guests will be able to enjoy the incomparable Italian hospitality and taste the delicious cuisine from Emilia-Romagna whilst sitting comfortably at the restaurant, which will probably be the busiest of the show this year again.
There will also be the opportunity to participate in a prize competition at the stand.
More info: www.marchesini.com