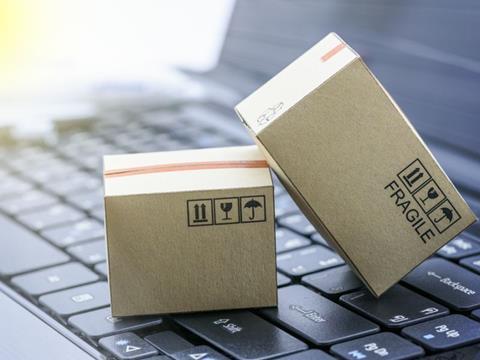 As more and more consumers embrace online shopping, packaging continues to play a pivotal role in both the brand and the consumer's ecommerce experience. With online purchasing causing a need for companies to adapt to change, strapping specialists, Mosca UK share their views on innovation in the packaging industry as a result of the rise of ecommerce.
Speed and efficiency
Brands are having to reassess how they package products in order to adapt to the demands of the online shopper. The increase in online sales volume requires higher speeds of both printing and packaging for companies to deliver on the promise of quick delivery. Speed is not only a huge factor in the success of the modern-day packaging industry, but also the in-line technology that ensures products reach customers in the best possible condition.
Versatility
The explosive growth of ecommerce means that packs must be available to cope with a huge range of product sizes and shapes. This has created a need for adaptable solutions to secure products that do not correspond to existing sizing standards.
The use of corrugated boxes is a common and widely used packaging material for the ecommerce industry. The reason for its popularity and use is because it offers strength, high durability and is commonly recyclable. However, the logistics behind getting the package ready for bulk handling and transport shipping is heavily reliant on strapping protection that is versatile and adaptable to change.
Mosca develops efficient strapping machines, from manually operated machines delivering soft tension on stacks of delicate printed goods, through to fully automated machines applying high-tensioned strap to secure whole pallets of fluted board. Mosca also produces high-quality plastic strap to solve a variety of product securing needs. Over 60% of Mosca's business comes from within the corrugated board sector and in 2017, Mosca launched a corrugated bundler the UCB - in direct response to the changing needs of corrugated product producers. The UCB can strap complex four or six-point folding cartons, made possible by product alignment on up to six sides. It boasts comprehensive network communication, as well as quick recall of saved recipes through a touch screen panel, allowing the machine to accommodate fast product changeovers without slowing the process down. "The UCB features automatic 'cycle rate adjustment' (CRA), reducing wear on the machine by enabling the UCB to match the strapping rate to the pace of the operator and the upstream system. The customer can switch the feature on or off. When activated, the machine continuously calculates throughput and regulates the drive motors accordingly," explains Mosca Direct's Sales Manager, Rob Toolen.
Automation
As with many other production lines, those who distribute to online customers are having to develop systems that use automation and machine technology. For the strapping and distribution of ecommerce products, this could include machines that monitor when the strapping material stock has dropped to a pre-defined level and automatically send out a new order. With industry 4.0, there is also the possibility of intelligent monitoring of machine components, providing users with real time information as to the status of the machine.
Environmentally friendly
Another key trend in e-commerce packaging is an increasing commitment to sustainability. Just as online shopping sales have risen, so has the need for environmentally friendly business solutions, such as eco-friendly materials and packaging which is predominantly recyclable.
Gaye Tate, Managing Director at Mosca Direct Ltd, industrial packaging machinery specialist, comments: "We take the three strands of being economical, sustainable and efficient very seriously throughout our business. The use of plastic strapping as a packaging material and a means for securing goods for transportation, exemplifies sustainability as it requires very little product and is one of the most minimal forms of packaging available. It ensures that transported goods are secured using only a small amount of plastic material, meaning less packaging waste and ultimately, less impact on the environment. Mosca's high-quality energy efficient machines require minimal energy during use, so the whole application process is highly resource efficient. In addition, Mosca's PP strap is manufactured in a climate-neutral process and is fully recyclable."
With the cut-throat, competitive environment of ecommerce, retailers are having to battle it out to meet the consumer demand as efficiently and profitably as possible. This means that packaging and distribution have become more important than ever. Investing in packaging equipment which is both innovative and efficient is a crucial part of staying ahead of the competition and achieving ecommerce success.