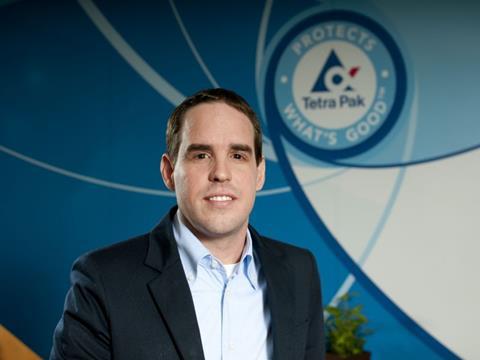 At the Packaged summit in Amsterdam, Elisabeth Skoda spoke with Alexandre de Souza Carvalho, Director Marketing Services at Tetra Pak, about the growth in the online grocery market, and how packaging innovations can help consumers to have a better shopping experience.
How do you balance the demands for sustainable packaging with demands for convenience and product protection?
Convenience is the main driver of online grocery in all markets. Consumers are looking for a shopping journey that's ever faster and easier and they expect a seamless, friction-free experience, not only across devices, but also across online and offline. Simply put, the easier brands and retailers can make this experience, the more successful they will be. This trend continues into the world of packaging, with urbanization causing homes to become smaller, with less storage space, making frequent smaller shopping trips to become more common place.
Consumers therefore appreciate space efficient packaging, in particular robust primary packaging that doesn't require secondary packaging. Carton packaging has an advantage here, as it is already designed to be as space efficient as possible, as well as maximise logistic performance.
Lightweight, logistically efficient carton packaging has a valuable role to play, both in reducing cost and carbon footprint, and this is being used as a differentiator by some brands and e-retailers. E-retailers report that space-efficient packaging can reduce transport volume by 30% to 50%.
Convenience is also key in secondary packaging. "Frustration-free" (easy-to-open) packaging is reported as key by e-retailers in the Tetra Pak Index.
How does the growing trend for e-commerce affect packaging design?
Packaging is key to e-commerce, with an overwhelming majority of consumers saying it can have a positive impact – or ruin an otherwise positive purchase experience. There are several moments of truth in a consumer's journey when they shop online that impact on the product experience where package design can play a value-added service. Take the unboxing experience, where there is still significant scope for e-retailers to enhance the consumer experience by improving the way the package looks and performs. For example, our research found that 38% had no product brand on the secondary packing, inside or outside, and 30% did not reflect the value of the brand. As the move to online shifts the traditional shopper journey, brands must respond by creating products that are innovative, stand out, as well as integrate seamlessly the offline and online world. With a growing expectation of 'personalisation' and 'uniqueness', food and beverage (F&B) manufacturers need to provide consumers with something different and memorable to help their brands rise above the noise and create a shareable experience for the shopper.
How do you balance design and technology to create a great product for the customer?
Personalisation is not only key to communicating with consumers, but also plays a role in customising the shopping experience. Brands are using customer data collected across multiple touch points, be that when they order online, or through smart packaging features, to solve complex and personal challenges for consumers one on one. As part of their omnichannel strategy, brand owners are looking to create consistency and enable conversion to sales wherever possible. Social commerce – buying direct from a social media feed – is increasingly common, notably in China through WeChat, but also in the West, with the addition of buy buttons in social posts on the rise here too. Looking ahead, it's easy to see this as a stepping-stone to a direct-to-consumer model: a major trend for consumer product companies going forward.
Purina is a good example. For its premium, all-natural Beyond range, it created a packaging design free from the traditional messaging needed on the shelf, plus a specially designed and branded shipper box and insert, resulting in a unique unboxing experience.
What do you predict to be the biggest game changer in the industry in the coming years?
The fast-growing digital trade of groceries will cause a major disruption in the industry – with 17.7%CAGR growth for online grocery expected in the next four years. Offline and online are merging to create both a better consumer experience and better efficiency for the entire supply chain. Online grocery today is still largely for stock-up and bulk buying. But we expect that to change as delivery becomes ever faster, and closer to real time prompting the shift to convenience shopping – little and often - that dominates physical retail. As an ever-growing number of consumers are going online, this brings new opportunities for F&B brands to engage consumers directly and stay relevant.
Read about the launch of the Tetra Pack Index and the opportunities for smart packaging in online grocery shopping.