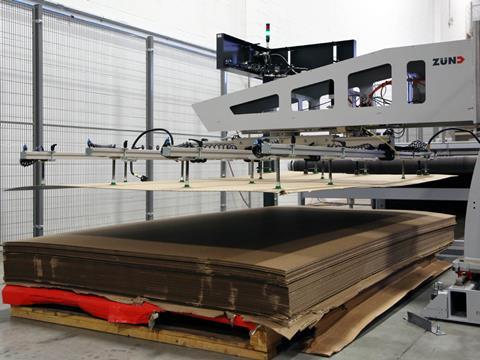 This edition of our Innovation Spotlight feature comes courtesy of cutting systems specialist Zund, which breaks down its unique relationship with Promotional Print & Packaging Inc., a Canada-based packaging producer.
Toronto co-packer Promotional Print & Packaging embraces digital technologies and process automation to pave the path for prosperous future. They have nothing but praise for the craftsmanship, performance and reliability levels provided by the Zünd Cutter G3 L-3200 and the Zünd Cutter D3-3200 cutter with a board handling system BHS150.
Longevity and staying power in the highly competitive co-packing business are largely defined by a company's ability to reinvent itself to meet its customers' ever-evolving needs and requirements to succeed in the markets they serve.
And if the last years are any indication, Toronto-based Promotional Print & Packaging Inc. (PPP) has mastered the art of self-reinvention down to science – in many ways thanks to its willingness and ability not only to embrace change, but to use it as a catalyst for continued growth and success.
Founded in 1985 by a husband-and-wife team of Brad and Sherry Townsend, the family-owned company enjoys a proud and extensive track record of providing its demanding CPG (consumer packaged goods) customers with the essential product packaging, display and distribution services to help brand-owners reach and entice their target customers to purchase their products.
Operating as a "One Stop Shop" solutions provider for clients ranging from major multinationals to e-commerce start-ups, the company has invested millions of dollars over the years to equip its two Toronto plants with the latest best-of-breed packaging systems and technologies to offer clients a comprehensive end-to-end suite of product and services that includes retail POP (point- of-purchase) displays; printing and finishing capabilities; distribution and fulfillment services; storage and logistics; and the fast-growing e-commerce custom packaging design and production.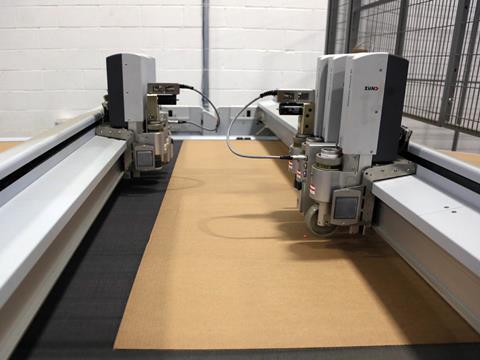 According to PPP president Brandon Townsend, a 2018 move to a new modern location in Toronto's east end has enabled the 70-employee company to achieve new process efficiencies and accommodate a range of next-generation technologies that have fine-tuned its operational excellence to not only consolidate its existing client base, but also open new opportunities in the rapidly-growing e-commerce sector
To help customers bring their innovative packaging ideas and concepts to life, PPP has made significant investments in the digital cutting systems and technologies manufactured in Switzerland by Zünd Systemtechnik AG, and distributed in North America by its Zund America Inc. subsidiary in Oak Creek, Wisconsin.
As Townsend relates, "Zund has played a large role in digitizing our production. Our initial relationship came about when we were building our design center in 2019, but it quickly evolved into building a full digital manufacturing production line with extensive automation capabilities," says Townsend, crediting Zund with helping JuicyFlutes build a robust Web2print platform that can run around-the-clock and deliver unrivalled speed-to-market. "They have been extremely supportive of our desire to run 24/7 in the dark, meaning unmanned, and to really push the limits of technology."
As for Zund machinery itself, Townsend has nothing but praise for the craftsmanship, performance and reliability levels provided by the Zund Cutter G3 L-3200 – used for sampling, ultra-short runs and redundancy and the Zund Cutter D3-3200 with a board handling system BHS150 used for short and medium production runs.
Designed to accommodate a broad range of tooling modules, the Zund G3 cutters are high-precision, high-performance flatbed digital cutting systems utilizing exceptionally sharp and durable knives, blades, routers, creasing wheels and other types of tooling to process materials up to 110-mm-thick – depending on beam height – with exceptional precision and virtually zero fiber loss or waste.
Using built-in vacuum generators to hold down the processed materials in place during processing, the modular Zund D3 cutters are operated via Zund Cut Center software ZCC – containing an extensive material database with optimal cutting parameters for every material and every Zund tool – that can be completely integrated into the digital workflow to support the end-user in every phase of job preparation.
For its part, the Zund D3 digital cutting system is equipped with two independently operating beams – each accommodating up to three different tools to ensure maximum productivity and throughput.
Equipped with a Zund board handling system BHS150, the D3 cutters offers fully automated board load and unloading to minimize the required manual labor for loading the individual sheets of processed materials and removing stacks of cut/finished sheets of material – facilitating 24/7 production with minimal personnel.
"The dual-beam D3 system doubles our cutting output with its two heads working as one," Townsend notes, "while the G3 serves as a back-up unit – using the same tools to allow for redundancy if D3 goes down, or if we need to boost production throughput."
The Zund digital cutters are a perfect fit for the company's digitalized workflow and relentless emphasis on waste minimization, according to Townsend, thereby making its packaging products ever more sustainable. With our digital lines we are able to not only create sheet combinations that reduce our waste on each layout, but also to pretty much eliminate all of our set-up waste for every process by running only exactly what is needed – creating close to zero obsolescence."
This content was sponsored by Zund.