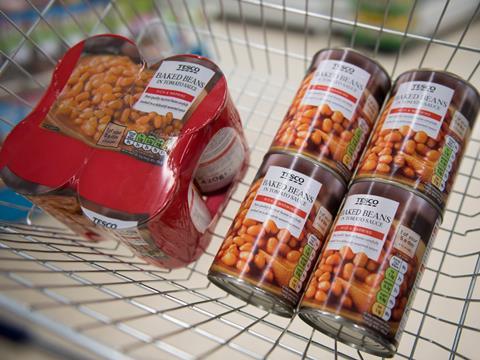 Tesco will replace plastic-wrapped multipacks with plastic-free multibuys on tinned food – reportedly eliminating 350 tonnes of plastic.
According to the company, more than 40% of Tesco customers include multipacks in their shop. Multipacks of baked beans, tuna, tinned tomatoes, and soup are among the most frequently bought grocery items in the UK. Tins will be available individually and will still be eligible for multibuy deals.
The change applies to both Tesco own-brand products and branded products, like Heinz Beanz and contributes to Tesco's commitment to remove 1bn pieces of plastic from its own-brand products by the end of 2020.
Tesco CEO Dave Lewis said, "We are removing all unnecessary and non-recyclable plastic from Tesco. As part of this work, removing plastic-wrapped multipacks from every Tesco store in the UK will cut 350 tonnes of plastic from the environment every year and customers will still benefit from the same great value 'multipack' price. This is part of our plan to remove 1 billion pieces of plastic in 2020."
Paula Chin, Sustainable Materials Specialist at WWF, said: "WWF supports Tesco's steps in the fight against plastic pollution. We need to remove unnecessary single-use plastic wherever possible, to stop the contamination of the natural world. If we want to protect nature, we need more businesses to follow Tesco's lead, before we run out of time to fight for our world."
At the end of last year, Tesco removed all hard to recycle materials from Tesco own-brand products and is working with suppliers to do the same. And, in August last year, the retailer also briefed 1500 suppliers that packaging will be a factor in its decisions on which products are sold in its stores.
However, while this move certainly chimes with public perceptions on plastic pollution – it remains to be seen of what the consequences may be in terms of consumer convenience, and the potential environmental impact of secondary packaging.