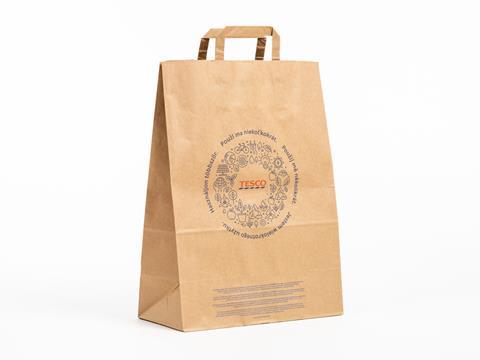 Mondi and Tesco Central Europe have launched a new partnership, in which Mondi creates recycled paper shopping bags using the retailer's warehouse corrugated waste.
This is the first time Tesco has collaborated directly with a paper producer to turn its paper waste into a renewable resource in line with its circular economy goals.
Mondi uses the retailer's corrugated waste to produce the EcoVantage grade, in which recycled and fresh fibres are combined to create a recyclable shopping bag.
According to Mondi, the use of fresh fibre in combination with recycled fibres has multiple benefits. EcoVantage paper reportedly combines the strength, printability and appearance of a fresh fibre top layer with the sustainability advantages of a recycled fibre bottom layer.
As of today, Tesco has rolled out the shopping bags created with the EcoVantage paper in an initial pilot across Hungary, Poland, Czech Republic and Slovakia in November 2020.
Paulus Goess, sales director for speciality kraft paper at Mondi, comments, "Our EcoSolutions approach means we collaborate very closely with our customers to create the best possible product for their needs – using paper where possible and plastic when useful.
"We have been working on this project with Tesco for over two years, with the aim of reusing their warehouse waste to create a quality product that is strong in terms of performance, based on renewable resources, uses recycled materials and can, in turn, be fully recycled and ultimately contribute to a circular economy."
Nóra Hevesi, head of communication at Tesco in Hungary, adds: "Our target is to make packaging 100% recyclable by 2025 and to reduce packaging wherever possible. We've already made great progress by removing 454 tonnes of hard-to-recycle material from our packaging so far, and it is exciting that we are able to close the loop by recycling our warehouse paper waste and use the recycled fibres in our shopper bags.
"We know how important sustainable and high-quality shopping bags are to our customers, so we are communicating the recycled fibre content and the closed-loop concept on the underside of the shopping bags as part of our consumer information."