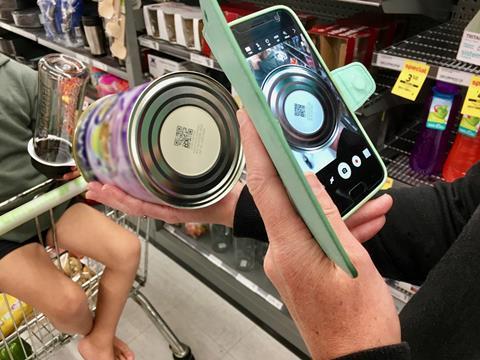 Total Brand Security (TBS), a global leader in brand protection and security, has delivered a new coating technology which enables smartphone scannable QR codes for FMCG products.
The development is thanks to TBS's utilisation of the unique DataLase laser-reactive pigment technology, and global printing partner, Kian Joo Group.
The QR codes allow consumers to electronically track and trace ingredients and products, providing complete supply chain traceability and transparency. The solution is particularly ideal for brands and products where provenance is crucial.
Adrian Simmons, Managing Director of TBS, said: "As more products cross borders, there's a growing demand for information about where our food has come from and what goes in to it. TBSlase™ provides a secure marking solution, ensuring complete traceability through the entire supply chain, enhancing security and product authentication."
Tony Foo, General Manager at Kian Joo Group, added: "Through two years of research and development and teams from all parties working together to overcome any issues, the TBSlase solution has now been successfully implemented by a nutrition manufacturer.
"Thanks to TBSlase, line speeds at the manufacturer's site have increased as marking can be executed more quickly and efficiently. The solution also has a much lower reject rate, produces less dust and delivers clearer, high-quality codes."
TBS designed and developed a coating formulation incorporating the pigment technology from DataLase. The coating is conventionally printed on to a product or pack and when exposed to a laser, at the point of packing or filling, a colour change reaction is generated resulting in a high definition, premium quality digital print. The resulting clarity of coding makes it easy for consumers to see and scan the code on packs.
Mark Naples, Chief Marketing Officer at DataLase, said: "DataLase technology enables brand owners to do so much more with their packaging than other printing solutions. Our business is built around strengthening the connection between consumers and brands, and this is an excellent example of a solution that meets the needs of the market."