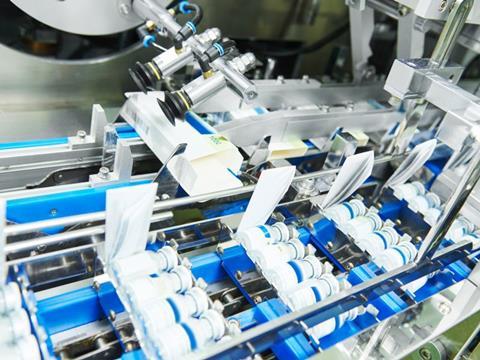 Arndt Neues, Team Manager, Key Account Food & Commodity OEMs at Omron explores how pharma manufacturers can implement a tamper-evident, flexible solution for low and medium volume production.
Serialisation legislation is putting greater demands on pharma manufacturers to ensure that labels printed at a late stage are accurate and contain all the data required for compliance. An example of late-stage customisation in pharmaceutical manufacturing is adding variable data to pre-printed labels or packaging. This allows the manufacturer to customise product labelling for certain markets, customers or products without having to stock individual packaging materials for each possible variant. In addition, the flexible production of smaller batch sizes places new requirements for automatic and fast changeovers. T
Why late-stage customisation?
Government organisations around the world have initiated or already implemented laws and regulations that aim to ensure patient and consumer safety by preventing falsified and counterfeit medicines from illegally entering the supply chain. The European Medicines Agency defines falsified medicines as those which may contain fake packaging, the wrong ingredients or low levels of the active ingredients. Counterfeit medicines are medicines that infringe trademark law or do not comply with intellectual property rights. Falsified and counterfeit medicines can pose serious risks to patients and consumers. For example, in the EU, pharmaceutical products need to be labelled and packaged specifically for each member state in which they are marketed, according to each country's individual requirements. Counterfeiting can be reduced significantly by implementing product serialisation, which requires a system to track and trace medicines throughout the entire supply chain. Serialisation of prescription medicines became mandatory in the EU on the 9th of February 2019. Similar regulations are in place in other regions.
These regulations (The Falsified Medicines Directive, 2011/62/EU) require pharmaceutical companies and license holders of pharmaceutical products to provide certain safety features on prescription medicines. These security features consist of a Unique Identifier (UI) for each product in the form of a 2D-Datamatrix code on the folding box and an "anti-tampering device" e.g. in the form of a seal of the folding box.
These security features are reviewed in an end-to-end verification system that guarantees correctness and minimum quality of the labelling and sealing, whilst also registering the product identifier. Manufacturers must therefore upload serial numbers to a database after production and physicians, pharmacies and hospitals etc. must verify the packages prior to delivery to the patient.
While compliance demands on the industry continue to become more complex, there is also a greater need for flexibility and increased efficiency in the supply chain. Packaging lot sizes are becoming smaller at an increasing pace, and the speed-to-market as well as focus on patient and customer needs are essential. Manufacturers require the capability to respond immediately to market requirements. On the other hand, small lot sizes can result in a decline in productivity and OEE (Overall Equipment Effectiveness). Downtime for format changes reduces the capacity utilisation rate of a factory or packaging line, negatively affecting the cost per unit. For the efficient packaging of even the smallest lot sizes, new processes must be considered while improving the performance of existing assets. The latest digital printing technologies are enabling new and flexible processes.
Benefits of late-stage customisation include minimising storage space and value, cost saving by replacement of logistic warehouses with one centralised warehouse (to serve several countries, for example), decrease in stored material value, as well as minimising rework and re-packing in case of errors or changes in regulations.
How to combine customisation, serialisation and decreasing batch sizes
Manufacturers must consider which step in their production process is ideal for carrying out serialisation and customisation. This depends on several factors, for instance their current infrastructure, production volume and speed, frequency and duration of changeovers, the requirements for expiry date and batch information in the target market. What level of savings could be achieved thanks to decreased stock values, reduced storage space and costs for printing equipment?
Due to the new regulations, all pharmaceutical products require a unique serial number, so producing 'lot size 1' is an essential requirement. If combining serialisation and small batch sizes is possible, and both digital printing processes can be integrated into one step, late-stage customisation can be used to achieve both compliance and cost-effective production.
There are several ways for late-stage customisation. An example is carrying out serialisation and customisation at a contract packaging facility, in logistics centres or on the actual packaging lines of pharmaceutical manufacturers. Primary packed materials can be shipped to decentralised packaging depots. The actual information can be printed and labelled once an order is placed, customising the labels by digital printing and delivering on short notice. This information can include translations, specific market information and traceability data. Late-stage customisation could in some cases also include over-labelling or applying date labels e.g. for clinical trials. In addition, there could be a need for shipping small lots with components specific to each of the markets served, or various product strengths and counts of products per carton.
Material can be shipped in bulk and fed to a packaging line, where a pre-printed code on the packaging is verified. Following this step, all market specific data can be printed, inspected and moved onto the next step in the supply chain. Another option is producing labels on short demand, which reduces warehousing expense and costs of pre-printed labels or packaging.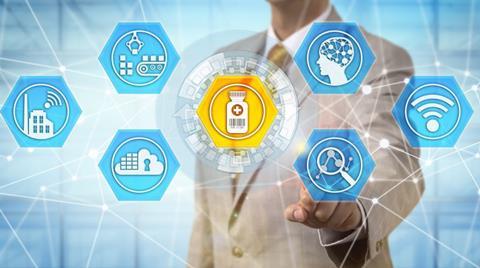 Late-stage customisation can also take place at various levels of technical requirements for different applications. For example, serialisation could be done only using black print or monochrome printing of certain symbols and text. Individual markings could be added in colour without serialisation and at the most complex level, large-scale colour printing with symbols and serialisation. Production to order could also include an almost blank packaging that becomes large-scale printed, although this places demands on the print and finishing technology used. An ideal solution must enable fast changeovers for data as well as format.
If serialisation and late-stage customisation takes place directly before packaging, considerable savings can be achieved in storage and logistics costs, since efforts for purchasing, storing and logistics management are reduced. Further advantages include versatile production and easy supply of small batches.
Finding a tamper-evident and flexible solution for low and medium volume production
Companies looking to implement an easy-to-use, tamper-evident and flexible solution for late-stage customisation, especially for low and medium volume production, might consider a flexible serialisation station, among other solutions. In this example, a packaging machine combines manual feeding, robotics, as well as printing and sealing with software.
In the case of secondary packaging, i.e. the repackaging of goods, the addition of leaflets or other information and blue-box labelling can affect the unique identifier (Ul), the information in the 2D Datamatrix code, as well as the sealing of the packaging. In this case, folding cartons must be subsequently reprinted and sealed.
A flexible serialisation station can handle manual feeding, automatically separating the products after manual feeding before automatically transferring the products to the printhead. The products can be customised with variable data, such as product codes, serial number and refund number (NHRN).
With a serialisation station, users can prepare orders including the initial setup of a product and load the master data from the serialisation database or ERP system. Set-up can be carried out via a menu that enables loading the required variable data print profile and the position of the tamper-evident seals, which are applied by a robot that places seals both left and right or top and bottom of the carton, or both. A camera system also inspects the tamper-evident seal. The labels are verified with robot-guided machine vision on presence and quality. The station includes a camera-based machine vision system for checking the print quality, which can validate text and check the Datamatrix code for correctness. The system rejects products with poor print quality, incorrect printing or insufficient seals.
A flexible serialisation station can be operated via a large, intuitive and easy-to-use industrial touch screen. In addition, the station may include a weighing system for checking the product weight. The solution is safe to use, even for breakable primary packaging such as syringes. The system can also generate all the necessary reports, including a production report per batch, error reports, accounting status report of the serial numbers used and a system-generated Audit Trail Report. A full audit trail, which is part of data integrity regulatory requirements, assures the record integrity and security. In addition, handheld scanners can be added, in case the variable data needs to be read out.
Conclusion
Late-stage customisation is currently on everyone's lips due the serialisation legislation that essentially requires pharmaceutical and medical companies to produce prescription medicines and medical devices in 'lot size of one', each containing a unique identifier in the form of a 2D Datamatrix code, as well as being sealed in a way that enables tamper verification. These industry requirements provide an opportunity for manufacturers and other operators to find a solution that can handle both serialisation and produce small batch sizes without losing operational effectiveness.