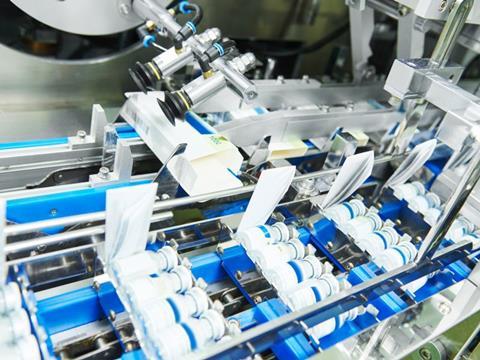 Late-stage customisation can also take place at various levels of technical requirements for different applications. For example, serialisation could be done only using black print or monochrome printing of certain symbols and text. Individual markings could be added in colour without serialisation and at the most complex level, large-scale colour printing with symbols and serialisation. Production to order could also include an almost blank packaging that becomes large-scale printed, although this places demands on the print and finishing technology used. An ideal solution must enable fast changeovers for data as well as format.
If serialisation and late-stage customisation takes place directly before packaging, considerable savings can be achieved in storage and logistics costs, since efforts for purchasing, storing and logistics management are reduced. Further advantages include versatile production and easy supply of small batches.
Finding a tamper-evident and flexible solution for low and medium volume production
Companies looking to implement an easy-to-use, tamper-evident and flexible solution for late-stage customisation, especially for low and medium volume production, might consider a flexible serialisation station, among other solutions. In this example, a packaging machine combines manual feeding, robotics, as well as printing and sealing with software.
In the case of secondary packaging, i.e. the repackaging of goods, the addition of leaflets or other information and blue-box labelling can affect the unique identifier (Ul), the information in the 2D Datamatrix code, as well as the sealing of the packaging. In this case, folding cartons must be subsequently reprinted and sealed.
A flexible serialisation station can handle manual feeding, automatically separating the products after manual feeding before automatically transferring the products to the printhead. The products can be customised with variable data, such as product codes, serial number and refund number (NHRN).
With a serialisation station, users can prepare orders including the initial setup of a product and load the master data from the serialisation database or ERP system. Set-up can be carried out via a menu that enables loading the required variable data print profile and the position of the tamper-evident seals, which are applied by a robot that places seals both left and right or top and bottom of the carton, or both. A camera system also inspects the tamper-evident seal. The labels are verified with robot-guided machine vision on presence and quality. The station includes a camera-based machine vision system for checking the print quality, which can validate text and check the Datamatrix code for correctness. The system rejects products with poor print quality, incorrect printing or insufficient seals.
A flexible serialisation station can be operated via a large, intuitive and easy-to-use industrial touch screen. In addition, the station may include a weighing system for checking the product weight. The solution is safe to use, even for breakable primary packaging such as syringes. The system can also generate all the necessary reports, including a production report per batch, error reports, accounting status report of the serial numbers used and a system-generated Audit Trail Report. A full audit trail, which is part of data integrity regulatory requirements, assures the record integrity and security. In addition, handheld scanners can be added, in case the variable data needs to be read out.
Conclusion
Late-stage customisation is currently on everyone's lips due the serialisation legislation that essentially requires pharmaceutical and medical companies to produce prescription medicines and medical devices in 'lot size of one', each containing a unique identifier in the form of a 2D Datamatrix code, as well as being sealed in a way that enables tamper verification. These industry requirements provide an opportunity for manufacturers and other operators to find a solution that can handle both serialisation and produce small batch sizes without losing operational effectiveness.