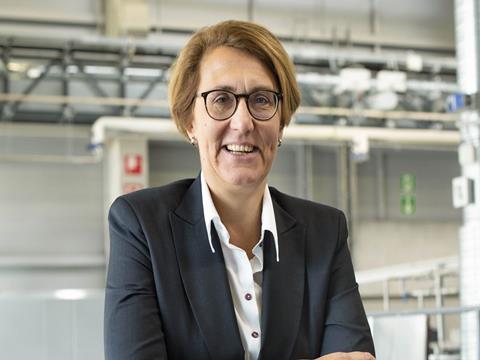 Kerstin Haase of Heidelberger Druckmaschinen AG talks to us about packaging industry trends, digital advancement, sustainability and plenty more.
What outstanding trends do you see in the packaging industry?
The packaging market remains a promising and dynamic growth market that offers numerous opportunities. Packaging is also one of the main channels in brand communication with - or perhaps because of - increasing digitalization. Campaigns with a high degree of interaction between packaging and consumers are coming up. This is happening in an industry that is becoming more and more global and in which the complexity of business and production processes is also increasing. The requirements are constantly getting higher: faster innovation cycles, shorter delivery times, more complex printing and finishing, high flexibility and additional services are in demand. In addition, there is a shortage of qualified workers.
The challenge here is the speed with which packaging printers have to adapt to the new requirements and the need to network with customers and suppliers - which is what we are talking about with digitization, the topic that will also dominate drupa next year.
What business models can printers use to benefit from the growing packaging printing market?
We see three main ways of positioning. The first is "operational excellence", i.e. a packaging printing company is absolutely excellent in its processes and is always very fast and cost-optimized. A second possibility is "differentiation", e.g. by offering certain finishing options that are not available from other print shops or a special service, e.g. design services or logistics. This is all about offering more and differentiating oneself from other printshops. The third possibility that we see is summarized under the term "business innovation". These are offerings that seek new ways to optimize the supply chain such as the integration of IT systems or platforms for order processing. These include, for example, integrated ordering systems, webshops and online platforms. Or the approach of using digital printing to develop new business models such as supply on demand.
What does "Heidelberg goes digital" mean and how digital is packaging printing?
Productivity analyses show that overall equipment efficiency (OEE) today is on average around 25 percent but that values of over 50 percent and more can be achieved. This is made possible by lean, intelligently controlled processes that systematically minimize operator influence on productivity and deliver transparent and accurate performance data in real-time. What is important here is a digital integration that is as consistent as possible without process gaps - from the customer order right through to the delivered product. Here, our Prinect workflow software offers a wide range of seamless solutions. To increase productivity and reduce process intervention, Heidelberg showed the innovative "Push to Stop" operating concept at drupa 2016 which extends to autonomous printing. In packaging printing with its high complexity and many spot colors navigated printing helps the operator to minimize makeready times and produce consistent quality. Heidelberg also offers offset and digital printing as complementary technologies for cost-effective production. Our Primefire 106 digital press produces extremely short runs and personalized packaging in the same quality as a Speedmaster XL 106, which can be used economically for longer runs. Both are controlled via the Digital Front End and the user can decide which job he wants to print with which technology and the combination of both often makes sense. The Smart Print Shop is therefore already a reality. This is only possible with digitization, for example with the help of the Heidelberg Assistant which represents the gateway to the digital world. The Heidelberg Assistant provides technical and operational information, performance and forecast data as well as contract and invoice details that can be viewed anywhere, at any time and on any device. The user has a complete overview of the print shop's service and maintenance status including predictive maintenance. One goal is to increase machine availability. In addition, users benefit from access to the industry's largest knowledge database and have access to big data performance analyses in order to get further potential for increasing productivity.
Heidelberg's new digital business model "Subscription" is based on the growing demand for pay-per-use offers. The business is changing from ownership to usership. In this model, the user pays exclusively for a productive industrial service, i.e. for the number of printed sheets. The subscription offering is scalable; at the highest level the sheet price to be billed includes the machines, all consumables required such as printing plates, inks, coatings, detergents, blankets and a comprehensive range of services geared to increase availability. As part of the subscription offering at the customer's request, Heidelberg can also handle the entire logistics for consumables called vendor managed inventory.
Consumers are increasingly demanding sustainable packaging. How do you support print shops in this?
Sustainable packaging production is currently the most important topic for us and its importance will continue to grow. In principle, there are three points. Firstly: waste savings, i.e. significantly lower consumption of cardboard. This is by far the biggest lever for reducing CO2 emissions as well as for cost-effectiveness. This is achieved through standardized processes and a high level of automation. Print color management and a central database where the exact color data and parameters for each job are available are prerequisites for achieving color targets at the touch of a button. Automatic presetting of the ink zones and makeready using the color measuring and control systems reduce waste by up to 150 sheets per job change. As job sizes become smaller and smaller this is an enormous saving at the end of the year. Second: the consumables. Eco-consumables and alcohol-free printing, for example, are used here. In addition, we are constantly improving our washing programs to minimize the use of chemicals. And thirdly: energy-efficient production machines. At Heidelberg, attention is paid to the use of energy-efficient components as early as the development stage and we offer the option of manufacturing climate-neutral printing presses.
drupa 2020 is approaching. Are you already telling us something about your solutions for the packaging market?
Heidelberg sees itself as a strong partner for packaging print shops and as a pioneer of consistent digitalization in the industry. Together with our partner MK Masterwork, we are focusing on profitable and autonomous packaging production in digital and offset printing with end-to-end processes right through to postpress supported by artificial intelligence (AI). Operation will be greatly simplified and OEE can be further increased. Ultimately, we want to extend the cloud-based platform concept to an eco-system. Customers will then receive all the things they need for their production conveniently and independently of time and place via a single platform. Networking with other suppliers and access to partner offers would also be conceivable. The digitalization of the industry is just picking up speed and there will certainly be a lot to see at drupa. Our aspiration as Heidelberg is to lead the way in this digitization. We will be demonstrating this at drupa with two locations: in Düsseldorf, where we are picturing the future of the printing industry and at our Wiesloch-Walldorf site where we are showing our leading-edge solutions for packaging and commercial.