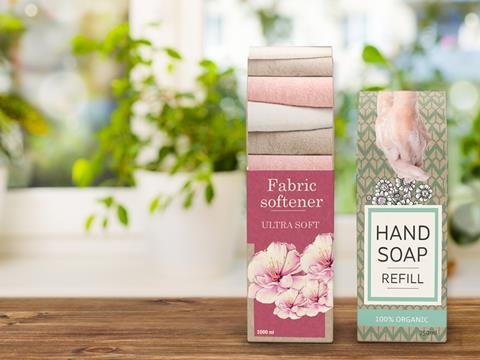 In a new Innovation Spotlight, Elopak announces that it is extending the sustainability advantages of its Pure-Pak® cartons to the non-food market by reintroducing the D-PAKTM carton for household products.
Drawing on its experience producing 14 billion cartons annually across 80 countries for the liquid food market, Elopak has developed and updated the D-PAK™ carton design from the early 90s to prioritize convenience for the consumer. The carton has a front flap/label that covers the screw cap of the carton to differentiate the non-food contents.
The D-PAK™ cartons are being marketed on the basis of their strong environmental credentials, offering an alternative to plastic bottles that is based on good wood and comes with or without a screw cap. They are filled using a specially designed filling machine.
By reintroducing the D-PAKTM carton to the non-food market, Elopak is able to offer the sustainability advantages of its cartons to a wider variety of customers. Consumers will now be able to purchase or refill their household products with an environmentally friendly container, produced by a carbon-neutral company.
The D-PAK™ carton has already been rolled out by Orkla Home and Personal Care (OHPC) in Norway, which has introduced new refill cartons for both its hand soap and laundry detergent on its brand, Klar. Elopak worked with Orkla to produce a package with all the sustainability and convenience benefits of the gable top carton, and to develop the filling technology to make this new step a reality.
The reintroduction of the D-PAK™ carton is the latest in a range of sustainability-focused innovations from Elopak, each shaped by the company's experience selling award-winning cartons for the liquid food market across both fresh and aseptic products.
Since 2017 Elopak has increased research and development spending by 25%, allowing it to explore new ways to make the company's iconic Pure-Pak® cartons even more sustainable. It was the first carbon-neutral company in the industry to offer carbon-neutral cartons and the first to produce fully renewable cartons made entirely from wood.
Popular recent innovations include Elopak's Natural Brown Board cartons, which are renewable, recyclable and have a lower CO2 footprint than conventional cartons, owing to reduced wood consumption and the elimination of the bleaching process. Their rustic, natural look effectively communicates this commitment to sustainability and instantly stands out on the shelves.
In 2020 Elopak introduced Pure-Pak® Imagine carton, which is a modern version of the company's original Pure-Pak® carton, containing 46% less plastic and designed with a new easy-open feature. It has no plastic screw cap and is 100% forest-based, making it Elopak's most environmentally friendly carton to date.
When it comes to innovation, Elopak works closely with its customers to help them achieve their sustainability goals by reducing the overall environmental footprint of a finished product. Elopak cartons also help keep the product itself secure and fresh, minimizing waste while supporting the effective communication of the brand's commitment to sustainability.
This content was sponsored by Elopak.