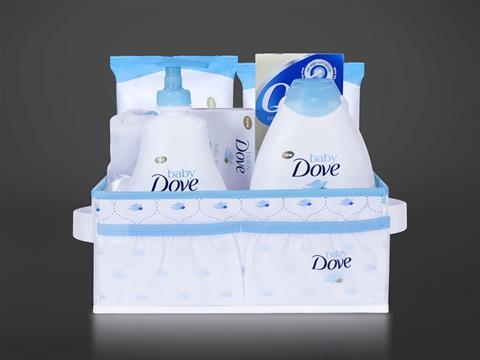 Supremia International, a leading premiums and promotional packaging specialist, advised and assisted Baby Dove parent-company Unilever and co-packer Menasha in the development of a unique, parent-friendly Baby Dove Complete Care Baby Essentials Gift Pack. Available in two sizes, the gift pack features a flexible, reusable basket holder containing multiple baby bath products, and promotes Dove's brand identity through both basket design and, in the larger pack, a winged 'dove-shaped' baby towel.
Supremia's role was one of strategic guidance, and included conceptualizing, developing and executing the design and manufacturing of the basket. The team's challenge was to satisfy Unilever's desire for a basket in line with the Dove brand's clean, mostly white appearance that also was utilitarian, portable, and reusable. The basket had to be durable as well, in order to serve the dual function of vehicle for store shelf-display and collapsible, reusable storage container for parents at home.
"The advice sought for the Baby Dove gift basket was ideally aligned with our creative specialty premiums and packaging expertise," explains Jessica Warwick, Sales Director, Supremia Americas. "We were thrilled to help create these highly functional, aesthetically pleasing, and brand-supportive baskets."
Leading up to the final product, Supremia experimented with several rounds of sizing, as the basket needed to accommodate a vac tray that would hold the products. Since some baskets would need to be shrink-wrapped for shipping through e-commerce sites, they needed to be snug and sturdy, and prevent product protrusion. In addition, the basket needed to incorporate the Baby Dove logo and closely match brand colors.
Design of the towel for inclusion in the larger gift-pack presented another set of unique challenges. Unilever sought a towel that would be sufficiently substantial in weight and size, yet soft, absorbent, and within budgetary constraints. After sourcing materials, Supremia presented several swatches for the team to choose from, and designed a unique winged 'dove-shape' for the towel to emphasize brand identity.
Adding human interest to the story, several members of Supremia's team were new parents, and tested the products for both size and comfort on their own newborns. To meet the needs of sensitive baby skin, they ultimately chose a 100% polyester terry 200gsm. This personal involvement by real moms and dads tied in nicely to the Baby Dove campaign launched by the company last spring, which says "there are no perfect moms, only real ones."
That the basket was created by real moms and dads corresponded with Dove's goal of depicting an inclusive, realistic portrait of modern parenthood that challenges the 'perfect mom' stereotype, and fits in with its widely-recognized #RealMoms campaign.
More info: