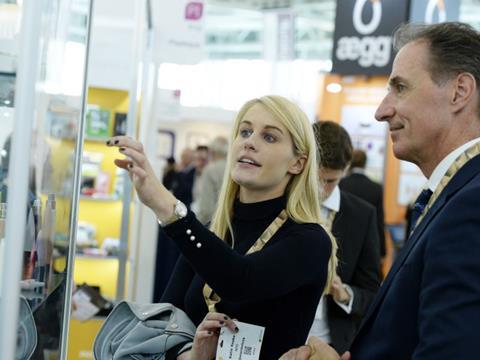 Packaging Innovations and Luxury Packaging London 2018 return to London Olympia on 12-13 September. More than 150 names are already on board for 2018, with early indications that 45 percent of the showfloor will be launching new products to the UK market.
For instance, Seufert Gesellschaft will introduce its new, environmentally-friendly, technology that eliminates the need for adhesives. The strong and sturdy component is held together by neat welding points, making it a sustainable addition to the company's transparent packaging product portfolio.
API Group will showcase how brands can acheive sustainable packaging solutions without the need to compromise on aesthetics, when it unveils its latest film-free metallic laminate option for paperboard - Transmet. Continuing with the sustainability theme, ECKHART will demonstrate how its new metallic effects can be a viable and more sustainable alternative to hot and cold foil stamping, as well as metallised substrates.
Systempack, a UAE based company that produces packaging solutions for the luxury market, will be using Packaging Innovations London 2018 to launch its business to the UK market.
DS Smith Packaging Consumer will be unveiling its new packaging for the Glenallachie Scotch Whisky range, which recreates the natural look and feel of rocks on the packaging itself.
IPL Packaging will be revealing its Emmy's Sterling Iridium and Sterling Iridium packs. Following the successful launch of its custom-made luxury Cabernet Sauvignon Iridium from Sterling Vineyards, which was gifted to award winners at the Emmy Awards Governor's Ball after-party in 2017, IPL has created a similar packaging solution for Iridium to use at retail. The pack has a similar appearance and visual impact, yet is appropriately tailored to the retail market and is more cost-effective to produce.
Vetroplas Packaging will present its new collection of aluminium cans and closures for perfumes and cosmetic products, along with a new foamer - Velvet, from its partner Albea. Velvet offers a creamier and richer foam than has previously been possible, opening up possibilities for other products and markets.
Keskeny & Co is introducing its latest surface treatment technologies, including the new digital printing machine - MGI Jetvarnish 3D Inkjet Spot UV Coater, which allows the company to varnish embossing forms with UV varnish and apply hot foil stamping.
Croxsons will be showing its comprehensive collection of glass packaging solutions for the food and beverage sectors, including a wide range of premium spirit bottles and luxury closures.Cole Fabrics has extended the range of its fabric pouches and bags. Made from a variety of materials, they can be plain or personalised, and finished with ribbons, cords, zips or press studs.
James Drake-Brockman, Divisional Director of the Easyfairs Packaging Portfolio, comments: "In addition to the packed showfloor, Packaging Innovations and Luxury Packaging London 2018 will play host to an exciting array of interactive content designed to give the visitors the tools they need to achieve greater success. Our free-to-attend seminar programme will be delivered across three stages with dedicated forums for the food, drink, beauty and luxury markets. The show will also feature the highly anticipated Big Plastics Debate, following its successful launch at the NEC show in March, plus it will introduce its brand-new partnership for 2018, with ADF & PCD, the world's premier event for aerosol, dispensing, perfume and cosmetics."
Registration for the show is now open.