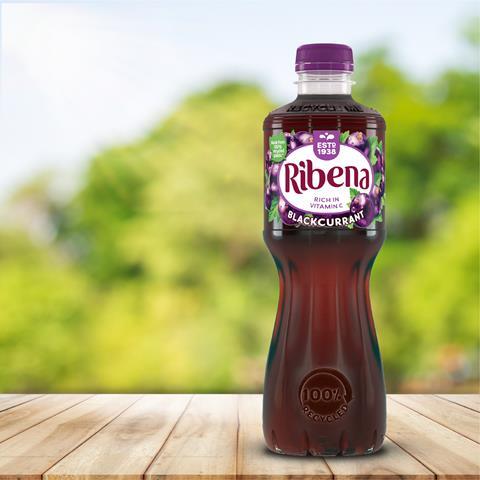 Ribena has launched a new bottle made from 100% recycled material with a reduced sleeve that will aid separation for recyclability, while also reportedly saving the equivalent of 202 tonnes of plastic annually.
Ribena's brand owner, Suntory Beverage and Food GB and Ireland (SBF GB&I), has invested £1.6m in the bottle redesign, which took two years to complete, as part of its ambition to make its plastic packaging "completely sustainable" by 2030.
The company also sees this development as a key step in its ambition to reach net-zero emissions by 2050, as recycled plastic has a lower carbon footprint than other packaging options such as virgin plastic.
Although Ribena's bottles have been recyclable for some time, the sleeve's dark colour and length could stop sensors at some recycling plants from identifying the clear, recyclable bottle underneath. This may have prevented the bottles from being sorted into the waste stream of plastic that could be turned back into bottles.
Switching the design of the label involved extensive product testing and investment to ensure that the drink would not be affected by the extra exposure to light while on the shelf.
The work that has been done on Ribena will also be applied across Lucozade Sport and Lucozade Energy, two other major drinks made by SBF GB&I, in the next 18 months – a move that is projected to save 1,100 tonnes of plastic each year.
Carol Robert, COO at SBF GB&I, said: "Making sure that our bottles can be easily recycled and turned back into bottles is an important part of our journey towards full circularity and net-zero emissions. Simplifying the packaging of our drinks to help consumers to recycle is just one of our many investments in making our soft drinks more sustainable."
The UK's environment minister, Rebecca Pow, added: "I am very pleased to see SBF GB&I taking this important step to ensure that all their Ribena bottles are fully recyclable and made from 100% recycled plastic.
"It is this kind of innovation that we want to see to create a more circular economy for our waste and resources, with more materials being recycled and reused and less being consigned to landfill or incineration.
"Through new powers in our landmark Environment Bill, we will introduce a deposit return scheme for single-use drinks containers and ensure that companies take more responsibility for the packaging they produce."