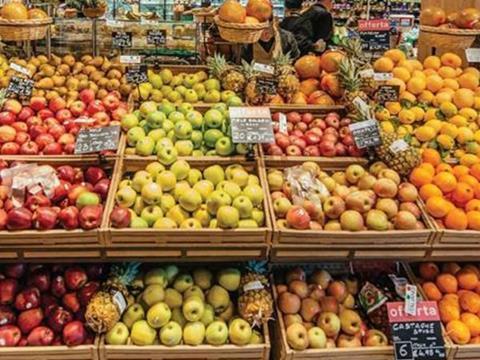 The Market Place crate from Polymer Logistics is quickly establishing itself as a major component of the Italian shopping experience.
Following successful implementations at Wal-Mart and Carrefour, Commerciale GiCap, a major distribution company in southern Italy, has benefited from a highly successful rollout of the Market Place crate system. GiCap, affiliated with Italy's VéGé Group retail consortium, is active in Messina and its provinces in that country. It operates 80 stores operating under the Quiconviene and Sidis names.
In its efforts to grow its fruit and vegetable presence in recent years, GiCap has taken several steps to target its trading strategies and implement policy changes. A crucial part of its initiative has related to improving its retail shopping experience. "We have expanded our commitment to improving the presentation strategies for fruit and vegetables at our stores," said Giovanni Capone, Sales Director of GiCap. During the second half of 2016, the company introduced the Market Place crate system to a significant part of its store network.
"The result was totally positive," Capone said. "We immediately found a significant increase in sales, which in some cases reached 10%." He noted that customer feedback was also very positive about how the Market Place crates provided a greater "visibility" or visual appeal to the fresh produce being displayed.
Polymer Logistics provides industry-leading solutions for food retailers seeking to create an upscale fresh market look for stores. The distinctive wood-effect, 'fresh from the field' appearance of the Market Place product family is quickly becoming the de facto standard for the best-in-class merchandising of fresh produce in Europe as well as North America. Wal-Mart and Carrefour have both recorded substantial increases in fresh produce sales since instituting the Market Place crate. In fact, a study conducted in Italy indicated that 94% of consumers preferred the "Wood-Look" of Market Place crates to other alternatives.
Besides its obvious advantages in terms of visual appeal for retail display, Market Place crates provide other crucial benefits for the distribution of fresh produce, including robust product protection, foldable and stackable performance to maximise truck and store space, ergonomically friendly design, and the elimination of splinters and wires. Market Place crates from Polymer also eliminate packaging waste through repeated reuse, and ultimately their recycling into plastic granules at the end of their useful life.
"In light of this experience, we are considering the possibility to introduce the Polymer Logistics solutions across all our network," Capone concluded.
More info: