Pharmapack Europe 2023's start-up zone is dedicated to exploring the technologies that are currently being launched or will come on to market in two- or three-years' time. One of the realities of the industry is that many of its' next generation technologies are developed by smaller companies before receiving investment, partnering or acquisition, which is why Pharmapack provides start-ups, university spin out and smaller suppliers a platform to showcase new innovations.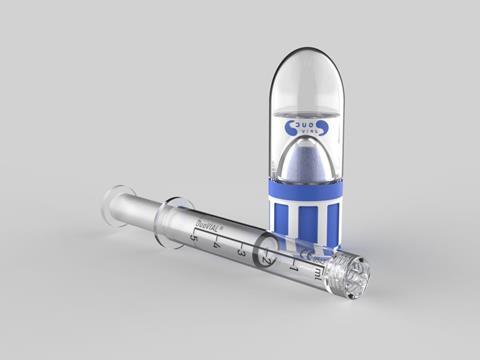 The event returns to its traditional February timing for the first time since the start of the pandemic and sets out to provide the industry with an early window into many of tomorrow's technologies that improve patient experience, adherence and delivery.
Ahead of next week's events, Packaging Europe took a closer look at two such companies – Pacifi Ltd. and FebriSol – that are presenting out of the box solutions to solve pharma packaging and delivery challenges.
Protecting sensitive formulations
Pacifi, for example, is a young company with the ambition to create sustainable and easy to use pharmaceutical packaging and medical devices. The company that has created a novel approach with their flagship product - DuoVIAL® - a dual-chamber packaging system designed to protect sensitive formulations including lyophilised biologicals, which are to be reconstituted immediately prior to application. It therefore can combine the advantages of both vials and ampoules into an impermeable glass (silicon free) single packaging unit.
The DuoVial consists of a glass membrane which has been weakened by patented laser technology and is mechanically opened using a twist cap. The mixing of contents happens without breakage of glass, reducing the risk of injury and loss of valuable diluent. In fact, the glass membrane even aids in the mixing of the component after falling in the liquid diluent.
This UK based firm has already been granted a patent in the UK for their manufacturing process, with approvals pending in five other key markets in Europe, US, China, India and Japan.
The technology has extensive application possibilities. Take for instance, DuoDerm a version of the product designed for skin probiotic cosmetics. Currently made to hold 2.5 ml of liquid, and combined with 75-150mg of powder, which is freeze dried bacteria in this case. Another notable application could be in vaccines for indications like malaria where a pre-measured amount of diluent is filled at one end and the inactivated virus at the other. This packaging would then ensure accuracy and reduce human error in mass universal immunisations, especially in the developing market. The glass cartridge can also be graduated and modified to be used as a medical device for drug delivery based on the needs of the customers.
Supporting patients' medication adherence
A further first, Studio Fundi are to showcase FebriSol, a new patient centric adherence intervention, at Pharmapack. Their solution is a scratch-card-calendar sticker that enables and engages patients to keep track of their chronic medication.
Designed by South African human-centred designer Ricky Stoch, FebriSol was one of ten projects shortlisted for the World Design Impact prize 2021.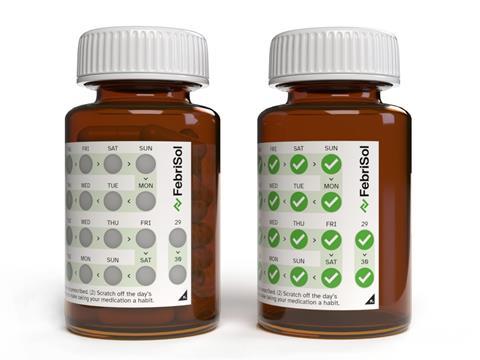 Why is it significant? Because treatment adherence to chronic medication is estimated to be only 60-70 percent across the world. It is particularly low in lower income countries where obstacles such as illiteracy, accessibility and obviously cost further prevent patients from sticking to daily treatments.
These customisable stickers, which are described as easy to scratch without the need of a marking tool, is inserted as an auxiliary card into the medication packaging. The patient, or carer, can then stick FebriSol somewhere it will cue their memory—to the medicine cupboard or on the medicine box itself. This enables the patient (or carer) to track the daily uptake of medicine indicated by a green tick, thereby enhancing the experience of taking that dose.
While FebriSol was originally conceptualised to increase adherence to antiretrovirals, medication used to treat HIV, in the developing world, it has since found applications in almost any daily chronic medication, including those used to treat heart disease, diabetes, cholesterol and depression.
Additionally, FebriSol can be customised to include symptom tracking, providing a potential real world data application as well. The product is registered in the UK, US and South Africa and recently sold more than 750,000 units to a large pharma customer.
With two pilot studies underway, one with Cipla in South Africa and the other with Gilead in Belgium, the start-up aims to partner with more pharma customers as well as national health agencies to have the scratch card dispensed with all chronic prescriptions.
These are just two examples do early-stage innovations at the event, with dozens of other new products expected to be unveiled at Pharmapack.