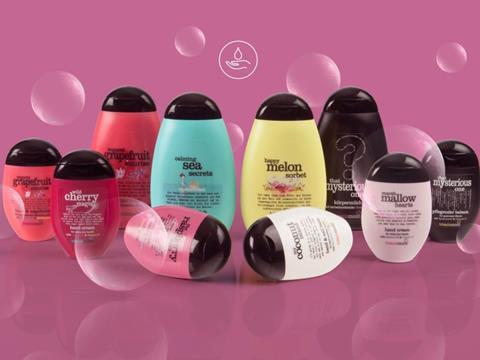 Treaclemoon has recently worked with RPC M&H Plastics to create a bespoke packaging solution. The re-design of the brand's range is designed to meet the growing market range and maximise shelf presence with the pack's unique shape and colour use.
When creating a custom packaging solution, Treaclemoon considered the market position of the product and chose to create two unique styles of bottle that maintained their brand image and provide continuity across other formats. The bottles come in two capacities consisting of 75ml for hand cream and 200ml for body lotion.
Opting for a bottle instead of a more commonly used tube for the hand cream allows Treaclemoon to disrupt the market and differentiate themselves from other products in stores while maintaining 'squeezability' due to the packaging being created from the Medium-density polyethylene (MDPE) material.
The colour of each package was determined by the lead ingredient and story. Combined with M&H's colour matching service, finding the right colour was as relaxing as the Treaclemoon range makes the end customer feel.
The Treaclemoon range is aimed at users with a happy life outlook. The end result reflects that mentality from the soft corners of the packaging to the bold colours used throughout the range.
More info: