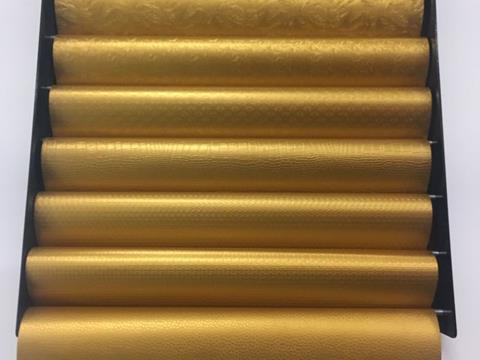 Swanline Paper & Board (SPB) has collaborated with Slater Harrison to develop a unique metallic effect paper and board that is both recyclable and compostable for the luxury packaging market.
The CenturaPack range was launched at Packaging Innovations, in London, last week. SPB partnered with speciality card, paper and board manufacturer, Slater Harrison, to develop the range, which is an environmentally strong alternative to metallised polyester (Metpol).
CenturaPack is a combination of Slater's Centura Pearl and Metallic coatings, delivering a unique surface for paper or board. Notably the solution does not contain film or foil and is suitable for most printing methods.
James Braddock, Production Director at Slater Harrison, said: "Working alongside SPB has allowed us to create a premium alternative which rivals existing products by offering a point of difference. We believe the CenturaPack range creates an air of absolute distinction, finishing products and packaging with a memorable creative flourish to showcase the essence of a brand."
CenturaPack is ideal for coated materials used in the creation of luxury and tactile packaging, rigid printed tubes, creative cartons and matching self-adhesive labels for the food and beverage and personal care markets.
The novel combination of materials means the range has strong eco-credentials; it is non- acidic and non-metallic, biodegradable, compostable and recyclable.
Ross Griffin, Managing Director at SPB, said: "CenturaPack is an outstanding example of innovation delivering a truly sustainable solution for the luxury packaging and POS markets. If the coating is applied to the surface of a recycled substrate such as white lined chipboard, for example, we have a completely recycled and recyclable combination that is not only aesthetically pleasing but functional for all packaging applications."
Slater Harrison is a manufacturer of speciality coated paper and board products for use in educational and decorative packaging applications. The company also develops laminated boards for picture framing and POS markets, and specialises in short and bespoke runs.
More info: